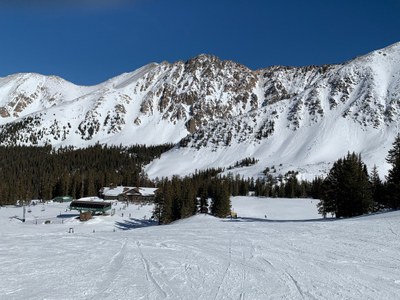 Trip
Backcountry Skiing/Splitboarding – Arapaho Basin Skimo
This is an early morning ski mountaineering (skimo, rando) race that takes place in the Arapahoe Basin Ski Area. Expect the course to be about 3 miles with 1500 to 2500 feet of elevation gain. It is a great way to get in shape for touring season.
Tue, Nov 21, 2023
Backcountry Skiing/Splitboarding
Adults
Challenging
Mileage: 3.0 mi
Elevation Gain: 2,000 ft
High Point Elevation: 13,000 ft
We will meet at 6:30 at the at guest services office (check-in desk) on the east side of the Arapahoe Basin ticket sales building. The race starts at 7:00. After the race those who want to can meet for breakfast and share their race stories.
This race requires that you register on the Arapahoe Basin website.  The cost is $25 per race.  The following information comes from their website
Time: 7:00 AM - 9:00 AM
Location: Mountain Goat Plaza
Join us for a six-part series of uphill challenges on Tuesday mornings in November, December, and January. Register for all six and save, or pick and choose which morning works best for you. The early morning Rise and Shine Rando Races are a fun and challenging way to start your day!
Race start: 7:00 a.m. in Mountain Goat Plaza 
Check-in begins at 6:00 a.m. in the Season Pass/Guest Services Office
Register Online at:
Route/Place
Arapahoe Basin
---
Required Equipment
Required Equipment
AT skis, skins, poles, boots, small pack for extra layers and any water and snacks.  Prepare for early morning winter alpine conditions. Temperatures at race start are typically single digits and below zero windchill is common on the course.  The race is a high output activity so dress in layers as one usually heats up quickly and must manage clothing to prevent sweating