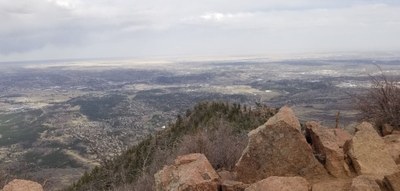 Trip
Hiking – Blodgett Open Space - Blodgett Peak
Hike to the summit of Blodgett Peak to watch the Thunderbird's air show at the Air Force Academy graduation.
Thu, Jun 1, 2023
Hiking
Adults
moderate
Challenging
Mileage: 6.4 mi
Elevation Gain: 2,300 ft
High Point Elevation: 9,423 ft
Pace: steady
We will meet at the Blodgett TH at 10:00, leaving time to make the summit before the air show starts.
This a steep, loose, and overall crappy trail to a peak overlooking the Air Force Academy. Pace will be steady and somewhat quick as to be sure to make the summit on time.  We'll be on top for a while, so bring extra layers and possibly a chair. A  camera with a good zoom lens would be helpful as well. 
Route/Place
Blodgett Open Space
---
Required Equipment
Required Equipment
Layers to stay on top for a while. Chair and camera (optional).