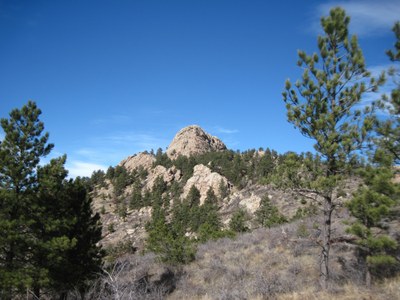 Trip
Hiking – Horsetooth Mountain Open Space
Part of a series of evening training hikes at Horsetooth Mountain also known as Rucking. These hikes are intended to be progressively more difficult by increasing pack weight each week. These are also a good way to get outdoors in the evenings as a group when it gets dark early.
Tue, Nov 21, 2023
Hiking
Adults
Moderate
Mileage: 5.2 mi
Elevation Gain: 1,440 ft
High Point Elevation: 7,248 ft
Pace: 2.5 mph
6 (8 capacity)
FULL (2 capacity)
We will meet at the Horsetooth Mountain Open Space Trailhead (6650 W County Rd 38E) ready to hike at 5:30 PM. For those wanting to carpool from Fort Collins meet at JJs Country Corner at 5:10 departure time is 5:15 PM
Note: A parking permit is required for HT Mountain Open Space.
This is a weekly training hike. We will be doing a moderate/fast pace (2.5 mph). In general this hike will be just less than 2 hours round trip.  The group will stick together. If you want additional challenge, please add pack weight to enjoy a good ruck.
Similar in concept to the Ascending Hikes Series this training series is meant to have a progressively more challenging hike in order to help participants learn their fitness and hiking level and better gauge their fitness and abilities for other CMC hikes based on difficulty ratings. 
Unlike the Ascending Hikes Series, we do not change the location of the hike each week, instead we hike variations of the same route up Horsetooth and increase difficulty by increasing pack weight (rucking).  For the best benefit, we encourage participants to try to attend the entire series.  Each week, you are encouraged to increase your pack weight by small increments (generally 5 lbs.), and maintain the same 2.5 mph hiking pace. By the end of the series you might be hiking with pack + 30lb (this would be the recommended maximum--which is roughly the weight of an heavy overnight backpack, climbing backpack, or winter pack).
If this is your first week, please come with just your pack.  Suggested to add 5lbs pack weight each subsequent week of attendance.  e.g.
1st time = pack
2nd = pack + 5lbs
3rd = pack + 10lbs
...
What to use for extra weight?   Water bottles/bladders are good sources of extra weight. In this way, if you are not able to keep up the pace with the extra weight, you can just offload the water and continue with the group.  1 L of water ~ 2.2 lbs.  Alternatively, we recommend bringing your normal pack and progressively add additional gear (tent, stove, sleeping bag/mat, etc) each week.
Do I need a special ruck pack?  No, we do not require a special pack. Please make sure your pack is comfortable when loaded and is able to support more weight/bulk (if you plan to ruck). 
For more information about the Ascending Hikes Series please refer to this document
https://docs.google.com/document/d/1ZHfTWFUg6YBflmycVGmUVghFDmVrA2c3ir3eZ4dfbXY/edit
For more information about 'rucking' see this site:
https://www.goruck.com/pages/what-is-rucking
Route/Place
Horsetooth Mountain Open Space
---
Required Equipment
Required Equipment
In addition to the 10 Essentials be prepared for hiking at night in cold conditions.  
Be sure to bring clothing layers and a headlamp, your pack and extra rucking weight if desired. In the winter, please also be prepared with microspikes. If you do not have appropriate equipment at the trailhead, there is a chance you may not be able to participate.