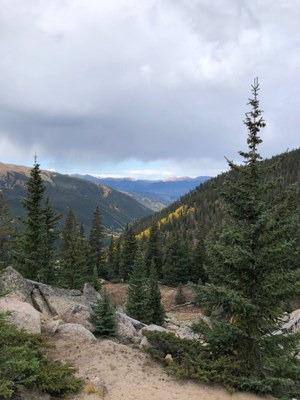 Trip
Hiking – Lenawee Trail
Lenawee Trail
Thu, Sep 28, 2023
Hiking
Adults
Difficult
Difficult
Mileage: 5.25 mi
Elevation Gain: 2,200 ft
High Point Elevation: 12,240 ft
Pace: Casual/Moderate
4 (10 capacity)
FULL (2 capacity)
Meeting Place:  Wooly Mammoth ParknRide
Meeting Time:  7:00 a.m. for a 7:05 departure after arranging carpools  (need AWD/SUV for reaching the trailhead).
For RMOTHG members only.  This is a STEEP trail, approximately 700+ feet gain in elevation per mile. A year ago this trail had some of the best aspen tree color and so worth the effort.  After hiking through aspens at the beginning of the hike, one passes through some interesting rock formations and occasional views of the valley.  Upon reaching treeline, we'll leave the trail after a short while and hike along the ridge for a nice lunch spot.  Views are superb!
An email will be sent to all participants in regards to weather, gear needed, etc. the day before the trip.
PLEASE advise the leader of any medical/health conditions that could affect you on this trip via email to:
erashirley@gmail.com or text 303-594-9698
Route/Place
Route-Place TBD
---
Required Equipment
Required Equipment
Reminder:  Please have ALL 10 essentials because at this time of year it's very important to have layers since weather can be summer or winter in the high country.  Last year above treeline a brief but COLD system came through for about 10 minutes with grapple - which means you need gloves/mittens, winter hat, warm jacket.  NO cotton.