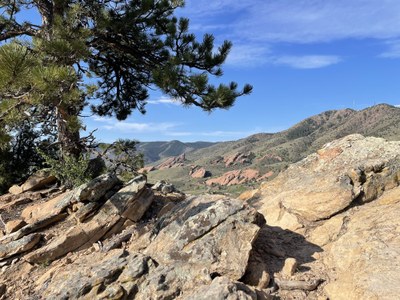 Trip
Hiking – Matthews/Winters Park
This trip is for RMOTHG members only. A second trip date to accommodate wait listers. Enjoy this short but intense high ridge-top walk with spectacular views. Because of possible snow and ice, at least carrying our microspikes are a must. Not a good trail for snowshoes due to narrowness of the trail and frequent small rock steps and scrambles.
Wed, Dec 7, 2022
Hiking
Adults
Moderate
High Point Elevation: 6,614 ft
Pace: 1.8
Please arrive by 8:45 am for a prompt 9:00 start. Meet at the Stegosaurus Park N Ride Lot, which is adjacent to the TH.  The lot is located just south of I-70 Exit 259, on the east side of Hwy 93. 
Leader's cell is 203-536-4199.  If you have to cancel that morning, please text me.  Although this trail may be considered Easy in warm weather, with the potential for some snow and ice, we are calling it Moderate.
Route/Place
Matthews/Winters Park
---

https://www.jeffco.us/DocumentCenter/View/9376/MatthewsWinters-Park-Map?bidId=
Required Equipment
Required Equipment
Come prepared for a day in the cold and breeze.  We'll write a day or two before with a more specific weather outlook. Bring lunch, a warm drink, and microspikes.