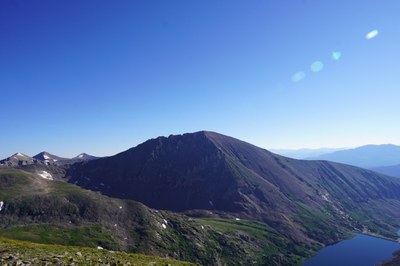 Trip
Hiking – Quandary Peak via East Ridge (standard route).
This hike is for Trailblazers (ages 21 through 39) curious or new to winter alpine hiking, but not sure where to start, or those looking to dial in their gear for the winter season! Others are welcome to join, but will be wait listed pending availability.
Sat, Nov 26, 2022
Hiking
Adults
Difficult C
Challenging
Mileage: 6.75 mi
Elevation Gain: 3,450 ft
High Point Elevation: 14,272 ft
Pace: Moderate
3 (8 capacity)
FULL (2 capacity)
For those wishing to carpool, a meeting will be arraigned at the Wooly Mammoth PnR. All other can meet at the Quandary Peak TH off Highway 9.
Times and meeting locations will be sent to participants prior to hike.
Do you think that hiking above treeline is a "summer only" sport? Have you been curious about hiking 14ers in snow, but maybe been too intimidated and don't know where to start? Do you have a few snowshoe hikes under your belt and want to keep expanding your experience level?
Come join the Trailblazers on this hike of Quandary Peak and find out why there's no such thing as "14er season"! Whether you're an experienced mountaineer looking to dial in the winter kit or a summer peak bagger interested in continuing the fun in the snow, this hike is all about celebrating the arrival of cold weather.
NOTE: This is part of a larger event organized through 14ers.com known as the Winter Welcomer. It's the 14th annual running. We will stay together as a CMC group, but expect to see lots of other folks on the trail. Details at https://www.14ers.com/forum/viewtopic.php?t=62276&p=772553#p772553.
Quandary Peak's standard East Ridge is an excellent route for training or beginner snow hikers, as access to the trailhead is available year-round and the stats aren't any longer than in the summer. Avalanche danger is low and avoidable except in extreme conditions (in which case this hike would be canceled). Route info can be found at: https://www.14ers.com/route.php?route=quan1
If weather is to extreme (snow/wind/avy danger) the hike may be postponed or cancelled.
To be approved for the trip, when registering, answer the following questions on the prompt. Leader will add you to the trip.
Are you a Trailblazer member?
Do you have, or can you borrow the gear listed in the "Required Equipment Tab"?
In the last year, what 13ers/14ers or other hikes at altitude (>12,000 feet) have you completed?
Are there any medical conditions I should be aware of?
Route/Place
Quandary Peak
---
Required Equipment
Required Equipment
In addition to recent (summer/fall 2022) experience on 13ers and 14ers, anyone wanting to attend this hike should also have the following gear on top of the summer 10 Essentials:
Extra Layers (including windproof layers such as a rain jacket)
Insulated Waterproof Boots (gaiters also highly recommended)
Balaclava/Buff
Goggles
Warm Ski Gloves and/or Mittens
Microspikes and Poles
Snowshoes (possibly not needed, updates to follow)