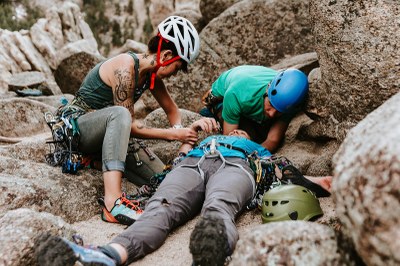 Risk Management Course
CPR/AED for Outdoor Enthusiasts
DEN CPR/AED Denver Group Course ( DEN )
Tue, Jun 27, 2023
Committee: Denver
Members: $40 Guests: $50.00
Availability: 5 (10 capacity)
We are offering a small CPR/AED class at the AMC/CMC building conference rooms with a limit of 10 students. Our certified CPR/AED Laura Zaruba instructor will also be teaching the class. Students completing the class will receive a two-year Adult CPR/AED certification from ECSI and CMC CPR Badge in their profile.
Please note that the CMC State CPR/AED course does not include Wilderness First Aid (WFA) certification.

The class is on Tuesday, June 27, 2023, at the AMC/CMC in Conference Room D from 6:30pm to approximately 9:00pm.
Course Requirements
This course has no scheduled activities.
Course Materials
You must register for this course to see course materials.