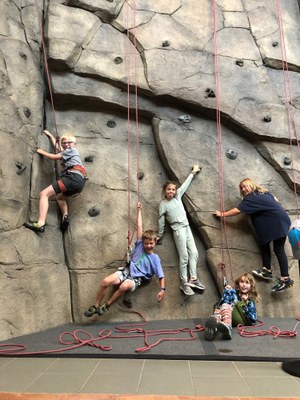 Youth & Climbing Program
Afterschool Program
Come rock climb with us afterschool on our indoor rock wall at the American Mountaineering Center in Golden on Wednesdays through September. Gain skills and confidence in rock climbing and have fun with our team of qualified instructors.
Wed, Oct 4, 2023 - Wed, Oct 25, 2023
Committee: CMC State
Members: $145.00 Guests: $155.00
Availability: 7 (12 capacity)
This program is tailored for youth ages 7-12 who are new to rock climbing, beginners, or at the intermediate level. In this course, youth will learn about climbing safety, equipment, knot tying, belaying techniques, the physics of climbing, and various climbing techniques. Youth will experience this all in a small, supportive environment facilitated by highly skilled instructors and we provide all the climbing gear!
Dates: October 4, 11, 18, 25  4:00PM-5:30PM
Location: The program is located at the American Mountaineering Center (AMC) at 710 10th Street, Golden, CO 80401.  The indoor climbing wall is located by the North entrance of the building.
Cost: CMC Family Members - $145/4 sessions, Non-Members - $155/4 sessions. CMC Members with a Family Membership receive $10 off. Learn about all the benefits of becoming a CMC member. 


Please note, if you have an individual membership and wish to sign up your child, you will need to create a separate guest account with a different email. You can also choose to upgrade your individual membership to a family membership to be able to register your child on your account and receive the discount.
Course fees include instruction, shared group gear (ex: ropes), harnesses, helmets, shoes.
AT CMC, WE BELIEVE THE OUTDOORS ARE FOR ALL. If you need financial assistance for our camps, click here to apply! If you would like to set up a payment plan to finance your next adventure, email us at staceyh@cmc.org.
Refund/cancellation policy: Requests made prior to 30 days before the beginning of this camp will be processed with a $20 handling fee. Requests made within 30 days of the camp will be refunded at 50% of the amount paid. No refunds will be made 7 days prior to the event unless it relates to a medical reason with a signed note from a medical provider.  If the CMC cancels the class for any reason, a full refund will be issued.
After registering, you will receive a confirmation email with more details and information about the camp. If you have any questions, please don't hesitate to contact us!
Registration form instructions: 
Each participant will need to fill out a Youth Form. Only fill out the required items. Health forms are required to submit this form but NOT to participate in afterschool programs. You can upload health forms if you have them or you can upload a blank placeholder document. Please reach out to yep@cmc.org with any questions about registration.
Program Requirements
This program has no scheduled activities.
Required Equipment
CMC Will Provide the Following:
Safety Equipment
Climbing Gear – harnesses, shoes, helmets, ropes, belay devices, etc.***
Participant Packing List:
If you are unable to bring any of the items below, please let us know. CMC does have a few extra items that we are happy to loan out.
Clothes (comfortable clothing for climbing):
o Loose fitting pants or shorts
o T-shirts and a long sleeve shirt
o Closed-toe shoes
o Sweater and/or warm layer
o Jacket (in case we go outside for outdoor games)
Water bottle (at least 1 liter)
Snacks
Personal medications (inhaler, EPI pen, etc.) – please have all containers and
bottles labeled and also listed on the medical form
**Cell phones, gaming devices, tablets, and iPods are NOT allowed on this program.
***Participants are allowed to bring their personal climbing gear – harnesses, shoes, helmets, etc. Please note this is optional. (CMC instructors will inspect all personal gear/equipment before use).
Program Materials
You must register for this program to see program materials.