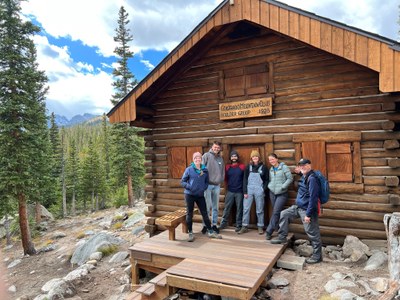 Youth Program
Brainard Lake Overnight Hut Trip
On this overnight trip, middle school-aged youth will explore and immerse themselves in the beauty of Brainard Lake Recreation area spending 3 nights and 4 days staying at the CMC Brainard Lake Hut.
Mon, Jul 17, 2023 - Thu, Jul 20, 2023
Committee: CMC State
Members: $645.00 Guests: $695.00
Availability: 1 (12 capacity)
Immerse yourself in the beauty of Brainard Lake Recreation area! Spend 3 nights and 4 days at the CMC Brainard Lake Hut. You will spend the days exploring the lakes and peaks around Brainard Lake. At night, you will enjoy time in the hut, sitting by the fire, cooking on an old stove, reading books, or playing games with your new friends. No previous camping or hiking experience required. 
Age: For youth going into grades 6-8. 
Dates: July 17, 2023 (depart at 9am) - July 20, 2023 (return at 4pm) 
Location: This is a 4 day, 3 night overnight camp. We will depart from the American Mountaineering Center (AMC) in Golden, CO. Transportation from the AMC to and from Brainard Lake Recreation Area will be provided.  The group will stay overnight at the CMC Brainard Lake Hut with convenient access to many lakes and trails.
Cost: CMC Family Members - $645, Non-Members - $695. CMC Members with a Family Membership receive $50 off. Learn about all the benefits of becoming a CMC member. 

Please note, if you have an individual membership and wish to sign up your child, you will need to create a separate guest account with a different email. You can also choose to upgrade your individual membership to a family membership to be able to register your child on your account and receive the discount.
Course fee includes instruction, shared group gear, transportation from the American Mountaineering Center to/from the trailheads, meals, hut fees, and backcountry permits. 
AT CMC, WE BELIEVE THE OUTDOORS ARE FOR ALL. If you need financial assistance for our camps, click here to apply! If you would like to set up a payment plan to finance your next adventure, email us at staceyh@cmc.org.
Refund/cancellation policy: Requests made prior to 30 days before the beginning of this camp will be processed with a $20 handling fee. Requests made within 30 days of the camp will be refunded at 50% of the amount paid. No refunds will be made 7 days prior to the event unless it relates to a medical reason with a signed note from a medical provider.  If the CMC cancels the class for any reason, a full refund will be issued.
After registering, you will receive a confirmation email with more details and information about the camp. If you have any questions, please don't hesitate to contact us!
Program Requirements
This program has no scheduled activities.
Required Equipment
Participant Packing List:
If you are unable to bring any of the items below, please let us know. CMC does have a few extra items that we are happy to loan out for the camp.
Clothes (comfortable clothing for hiking and sleeping):


Loose fitting quick drying pants (hiking pants preferred)
Shorts (optional)
Tshirts and a long sleeve shirt
Closed-toe, sturdy hiking shoes
Sandals – camp shoes (optional)
Socks and underwear
Sweater and/or warm layer
Rain jacket
Rain pants (optional but recommended)
Brimmed hat
Sunglasses
Warm hat and gloves (it can get cold at night)
Bandana or buff

Bug spray (must be labeled with participant name)
Sunscreen and lip balm (must be labeled with participant name)
Water bottle 
Backpack large enough to carry all personal items on this list (CMC is able to provide one if needed)
Personal medications (inhaler, EPI pen, etc.) – please have all containers and bottles labeled and also listed on the medical forms
Sleeping bag (optional, CMC is able to provide one if needed)
Overnight toiletries (toothbrush, toothpaste, *please note: there are no bathing facilities)
Mask (optional)
Camera (optional)
CMC will provide:
Cooking Supplies (stoves, fuel, coolers, dishes, utensils, etc.)
Food (all meals and snacks)
Medical/First Aid Kits
Safety Equipment (GPS devices, etc.)
Permits, maps, guidebooks
Transportation from Golden to/from Brainard Lake Recreation Area
Sleeping bags and large backpacks if needed
Extra clothing/gear if needed
Program Materials
You must register for this program to see program materials.