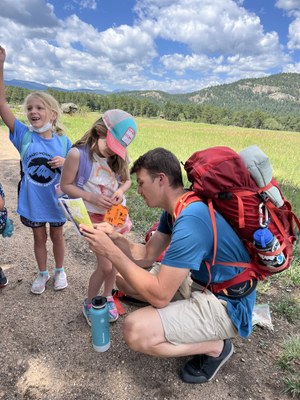 Youth Program
Jr. Mountain Explorers
1-3rd graders, spend a week adventuring with us! Join Colorado Mountain Club's Youth Program for a true Colorado summer adventure rock climbing, slacklining, hiking, and more! No previous experience required.
Mon, Jul 17, 2023 - Fri, Jul 21, 2023
Committee: CMC State
Members: $635.00 Guests: $685.00
Availability: FULL (12 capacity)
Make the most of your summer by exploring the diverse ecosystems that Colorado has to offer! Each day, you will explore a new area in Colorado's Front Range, where you will get the chance to experience indoor and outdoor rock climbing and go hiking. As a part of our Jr. Mountain Explorers Camp, you will get the chance to explore the varied activities and types of terrain that make Colorado so unique and special. You will make a field journal, learn about the '10 Essentials' and Leave No Trace wilderness ethics, practice teambuilding, and learn about the wonderful ecology in our own mountain backyard! 
Age: For youth going into grades 1-3. Unfortunately, per our childcare license, all youth must have completed Kindergarten.
Location: Each day, we will meet and start our day at the American Mountaineering Center (AMC) at 710 10th Street, Golden, CO 80401. This is a week-long day camp. We will depart daily from the American Mountaineering Center. Transportation from the AMC to offsite locations in the front range is provided.
Cost: CMC Family Members - $635/week, Non-Members - $685/week. CMC Members with a Family Membership receive $50 off. Learn about all the benefits of becoming a CMC member. 

Please note, if you have an individual membership and wish to sign up your child, you will need to create a separate guest account with a different email. You can also choose to upgrade your individual membership to a family membership to be able to register your child on your account and receive the discount.
Course fees include instruction, shared group gear (ex: ropes), harnesses, helmets, shoes, transportation from the American Mountaineering Center to/from the trailheads, snacks, and backcountry permits.
AT CMC, WE BELIEVE THE OUTDOORS ARE FOR ALL. If you need financial assistance for our camps, click here to apply! If you would like to set up a payment plan to finance your next adventure, email us at staceyh@cmc.org.
Refund/cancellation policy: Requests made prior to 30 days before the beginning of this camp will be processed with a $20 handling fee. Requests made within 30 days of the camp will be refunded at 50% of the amount paid. No refunds will be made 7 days prior to the event unless it relates to a medical reason with a signed note from a medical provider.  If the CMC cancels the class for any reason, a full refund will be issued.
After registering, you will receive a confirmation email with more details and information about the camp. If you have any questions, please don't hesitate to contact us!
Program Requirements
This program has no scheduled activities.
Required Equipment
CMC Will Provide the Following:
Field journals
Snacks
Medical/First Aid Kits
Safety Equipment (GPS devices, etc.)
Climbing Gear – harnesses, shoes, helmets, ropes, belay devices, etc.
Permits, maps, guidebooks
Participant Packing List:
If you are unable to bring any of the items below, please let us know. CMC does have a few extra items that we are happy to loan out for the week.
Clothes (comfortable clothing for climbing and hiking):
o Loose fitting pants or shorts
o T-shirts and a long sleeve shirt
o Closed-toe, sturdy hiking shoes
o Sweater and/or warm layer
o Rain jacket
o Brimmed hat
o Sunglasses
o Warm hat and gloves (for hiking trips)
o Bandana or buff
Mask (optional)
Bug spray (must be labeled with child's name)
Sunscreen and lip balm (must be labeled with child's name)
Water bottle (at least 1 liter)
Lunch and snacks (in a sack)
Backpack large enough to carry all personal essentials for a day hike/climb
Personal medications (inhaler, EPI pen, etc.) – please have all containers and
bottles labeled and also listed on the medical form
Journal, pencil, pen, books (optional)
Camera (optional)
**Cell phones, gaming devices, tablets, and iPods are NOT allowed on this course.
Program Materials
You must register for this program to see program materials.