The Best Front Range Hikes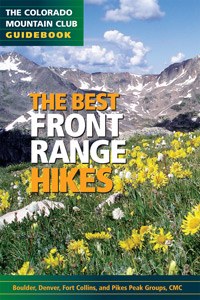 ---
The Colorado Mountain Club Discount
Log in to access the promo code and receive 20% off your order.
Description
70 hikes in Colorado's Front Range chosen for the beauty, variety, and the quality of the hike itself
A wide range of hikes, from easy to difficult
Complete trail descriptions, color photos, and maps

The Front Range of the Colorado Rockies rises abruptly from the plains in a 150-mile stretch of foothills, rounded summits, and jagged peaks between Fort Collins and Colorado Springs.

The hikes in this book were selected by members of four major groups of The Colorado Mountain Club in an occasionally contentious process. After some heated arguments, quiet horse trading, and uproarious laughter, members decided on their favorites-so these really are the best hikes in the Front Range.

Each description starts with some basic information about the hike, followed by comments on the hike by the writer/photographer, directions to the trailhead, and a complete route description, including pictures from the route and a color map of the trail.
Details
288 pages
Colorado Mountain Club Press
978-0-9799663-9-2
Jun 24, 2010