The Best Southern Front Range Hikes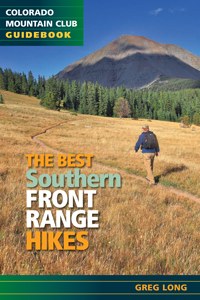 ---
The Colorado Mountain Club Discount
Log in to access the promo code and receive 20% off your order.
Description
By Greg Long
Colorado hikes within an hour of Interstate 25 south from Denver, Colorado Springs, Pueblo, Walsenburg, and Trinidad
Guidebook covers trails where few other hikers go
Full-color trail maps and photos

The Best Southern Front Range Hikes includes 65 of the most superb hikes found anywhere in Colorado. The hikes were chosen for a number of reasons including the beauty of the scenery, the variety of terrain, the quality of the hiking experience on the trail, and the fact that many of these trails don't get used as much as the trails in other parts of the state. Some are close to town while others are more remote. Many make excellent family hikes while others challenge the seasoned mountaineer. All hikes in this guidebook can be done in a day from at least one of the cities listed above.

Each trail description starts with some basic information about the hike including elevation gain, difficulty level, and round-trip distance and time. These statistics are followed by comments on what to expect on the hike, directions to the trailhead, and a complete trail description, including photos from the route and a color topo of the trail.
Details
232 pages
Colorado Mountain Club Press
978-1-937052-01-0
Sep 12, 2012
You might also like: