The Best Front Range Wildflower Hikes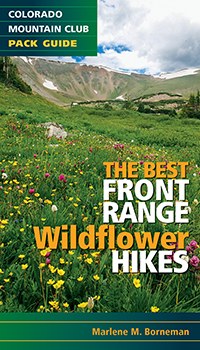 ---
The Colorado Mountain Club Discount
Log in to access the promo code and receive 20% off your order.
Description
By Marlene Borneman
A wide variety of wildflower hikes along Colorado's Front Range, from Colorado Springs to Fort Collins, including Rocky Mountain National Park
Includes detailed comments, route descriptions, driving directions, maps, difficulty ratings, and nearest landmark
Fits in your pocket or daypack and features color photos and maps throughout the book
From the plains to the high mountains, Colorado is known for its magnificent displays of wildflowers. The Best Front Range Wildflower Hikes showcases 22 trails filled with native wildflower species across five life zones. Trail descriptions include habitats and interesting tidbits on the plants, along with a listing of native flora with both common and scientific names.
This pack guide focuses on easily accessible hikes, as well as a variety of habitats and flora. The Best Front Range Wildflower Hikes will lead beginning wildflower enthusiasts, as well as veteran observers, to stunning wildflowers along Colorado's mountain trails.
Details
108 pages
Colorado Mountain Club Press
978-1-937052-31-7
Jun 15, 2016