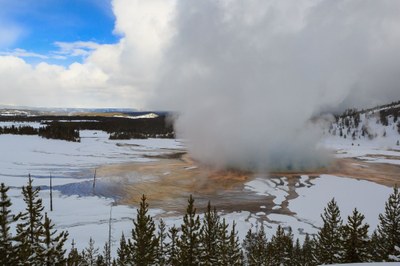 Trip
Adventure Travel – Yellowstone National Park
Yellowstone in the Winter 2024 Skiers, snowshoers, nature lovers and photographers will enjoy the convenient trails leading directly from the Snow Lodge to the geysers and waterfalls. All these experiences and more await those who join this trip, with its balance of camaraderie for outdoor adventures, happy hours and opportunities to tailor each day's snowy outings to individual skills and abilities.
Thu, Feb 8, 2024 — Mon, Feb 12, 2024
Adventure Travel
Adults
For Beginners (Getting Started Series)
$600.00 $600.00
3 (26 capacity)
Contact Leader to Sign Up
CMC Member:  $2475.00
Non Member:  $2722.50
Deposit:  $600
Balance Due Nov. 1, 2023
Yellowstone in Winter is a classic Adventure Travel trip that has been sponsored by the CMC for over 30 years. What attracts club members year after year, sometimes for a repeat trip? Maybe it's a brisk walk out to the geyser basin to see the Old Faithful erupt in the fading light of late afternoon on the day of arrival. Or the several mile ski into Lone Star geyser basin with the anticipation of being there at just the right moment to enjoy 15 minutes of spectacular water and steam, perhaps with a bison thrown in for added atmosphere. Or a starlight walk in an eerie landscape of bubbling mud pots and steaming vents, sure to astound if not spook the most experienced outdoor traveler.
Route/Place
Yellowstone National Park
---

Nat Geo Trails Illustrated Colorado #100
Trails Illustrated 101
Required Equipment
Required Equipment
10 Essentials