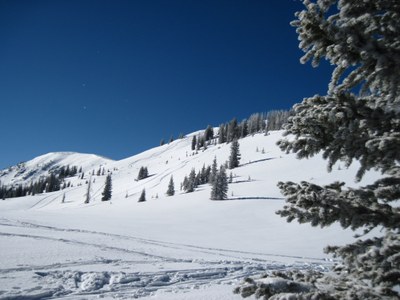 Trip
Backcountry Skiing/Splitboarding – Montgomery Pass
An early season backcountry ski tour on moderate terrain.
Sat, Nov 26, 2022
Backcountry Skiing/Splitboarding
Adults
Mod B
Moderate
Mileage: 4.0 mi
Elevation Gain: 1,500 ft
High Point Elevation: 11,400 ft
Maximum Wind: 10 kts
Pace: Casual
Meeting place: Picnic Rock parking area off highway 14, about 2.5 miles west of the highway 14 and 287 junction (Ted's Place).
Meeting Time: 7:50 a.m., departure at 8 a.m.
An early season ski tour on moderate terrain in the Cameron Pass area. The trailhead is the Zimmerman parking lot.
Ascent is casually paced (slow), usually on an established track on the Montgomery Pass Trail. The trip high point is the Montgomery 'Bowls' at about 11,400'. The descent is off-trail in treed terrain of less than about 30 degrees. Participants must be able to ski in trees with untracked snow. Approximate ascent and descent routes are shown in: https://caltopo.com/m/8TQAU
With an early season snowpack it is required that participants ski slowly and carefully to avoid obstacles such as low snowpack depth, bare areas, deadfall trees, etc. If time and conditions permit, we will do a snow profile with a snowpack stability test. If snowpack conditions are judged inadequate, the ski tour will be rescheduled. 
As this is likely a first backcountry ski tour for many participants, you should contact the trip leader at john.raich@colostate.edu if you are considering to participate.
Route/Place
Montgomery Pass
---
Required Equipment
Required Equipment
Backcountry AT, telemark ski or splitboard gear, including climbing skins. Helmet is recommended. Avalanche rescue gear (beacon, shovel, probe) required. Warm weather clothing, sun and wind protection. Bring lunch or a snack and a drink.