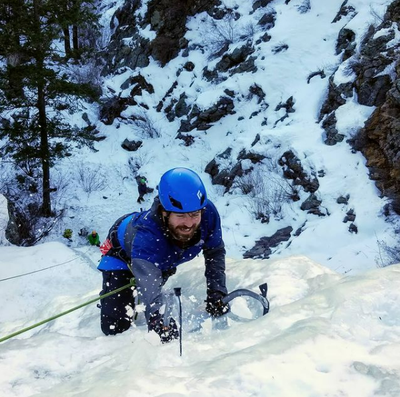 Climbing Course
Basic Ice
In two evenings and one field day on ice, Basic Ice Climbing will introduce novice or experienced rock climbers to the basics of ice climbing, and teach them to safely enjoy the sport in top-rope settings. The course focuses on equipment, safety, and technique.
Tue, Jan 24, 2023 - Sun, Feb 5, 2023
Committee: CMC State
Members: $145.00 Guests: $145.00
Availability: 26 (48 capacity)
Basic Ice does not teach avalanche awareness or avalanche safety. These topics are covered in the Avalanche Terrain Avoidance Seminar or AIARE Level 1 School. If you are interested in learning to lead on ice, and are an experienced trad leader, consider the Ice Lead Climbing class.
(All students will attend both lectures)
Lecture 1: Tuesday Jan 24th, 2023 - 6pm - 7:30pm
Lecture 2: Thursday Jan 26th, 2023 - 6pm - 7:30pm

(You will select one of the four Field Days)
Session A Field Day: Sunday Jan 29th, 2023 - 8am - 12pm
Session B Field Day: Sunday Jan 29th, 2023 - 1pm - 5pm
Session C Field Day: Sunday Feb 5th, 2023 - 8am - 12pm
Session D Field Day: Sunday Feb 5th, 2023 - 1pm - 5pm

Notes
Note that classes sometimes show "Sessions"; Basic Climbing Session A, for example. Sessions are simply alternate dates of the same class. In other words, you may choose Session A, B, C or D, depending on which dates work best for you. You do not have to complete all sessions.
Cancellation Policy:
Classes must have minimum four students signed up and requisite number of instructors. If either number is too low class may be cancelled,
Refund Policy: Please see CMC refund policy 
COVID-19 Protocol: Covid 19 Protocol
Course Requirements
This course has no scheduled activities.
Required Equipment
Harness
Belay device
Helmet 
Climbing shoes (Shoes for lecture night) 
Necessary 4-season clothing and gear to negotiate snowy terrain in full winter.
Mountaineering boots that will take a hybrid or step-in crampon. We have some strap-on crampons that will fit boots without a toe or heel welt but this is not the optimal configuration.
1 pair of gloves that are thin enough to give you dexterity on the climb yet warm enough to avoid frostbite.
1 pair of warmer gloves to wear when belaying or waiting for a rope.
55L+ Pack
Equipment Provided: 
CMC will provide technical equipment for the class (ice tools and crampons).
Course Materials
You must register for this course to see course materials.