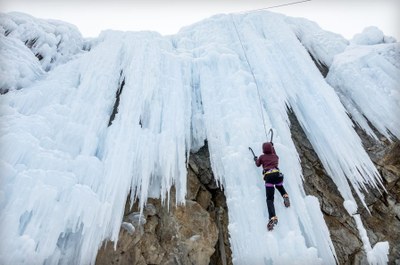 Climbing Course
Ice Lead Climbing
This class is for experienced ice climbers who are ready to get on the sharp end.
Thu, Feb 16, 2023 - Sun, Feb 26, 2023
Committee: CMC State
Members: $385.00 Guests: $385.00
Availability: 5 (12 capacity)
What You'll learn:
How to place ice screws
Ice leading strategy
Options for technical descent (e.g. A-threads)
You'll also receive plenty of mentorship from our Sr. Ice Climbing Instructors.
Course Requirements
This course has no scheduled activities.
Required Equipment
Harness
3 Locking Carabiners
2 double runners
Belay device
Helmet
Climbing shoes (Shoes for lecture night) 
Eye protection (required)
Crampons 
Necessary 4 season clothing and gear to negotiate snowy terrain in full winter.
Mountaineering boots that will take a hybrid or step-in crampon. We have some strap-on crampons that will fit boots without a toe or heel welt but this is not the optimal configuration.
1 pair of gloves that are thin enough to give you dexterity on the climb yet warm enough to avoid frostbite.
1 pair of warmer gloves to wear when belaying or waiting for a rope.
Course Materials
You must register for this course to see course materials.