In anticipation of the Eckart Roder Education Fund dinner, application season, and recipient projects, we'd like to share the reflections from last year's awardees. In 2022, the Eckart Roder Education Fund granted the Technical Climbing School, CMC Snow Rangers, and Pikes Peak Group member Kristen Buckland with avalanche rescue equipment and training as well as the CMC Youth Programs with student scholarships. Eckart's legacy lives on through their contributions to mountain safety, responsibility, and courtesy, benefitting our CMC community as a whole. Learn about the impact this funding had on them and their community. 
---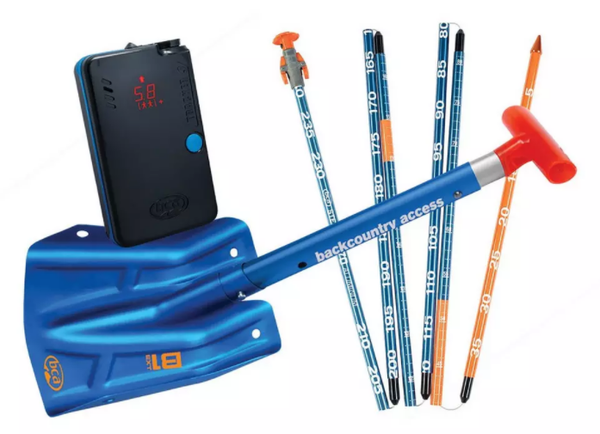 With the Eckart Roder Fund, the Technical Climbing School placed an order through Backcountry Access based in Boulder for two Tracker S Avy packages. These Avy rescue packages will be used to support the safety of students in the mountains. This year the Colorado Mountain Club instituted an organization-wide policy that requires a minimum level of avalanche education for all CMC Trip Leaders and Instructors. This was a bold step by the organization to increase the standards of safety on snow-covered terrain that is determined to be avalanche prone. With any rescue or safety equipment, the first goal is prevention and hopefully, it will only be used for training and practicing rescue scenarios rather than in an actual rescue. The Technical Climbing School is extremely grateful for the generosity of the Roder family to support the safety and education of our instructors and students. This gear and equipment will be used for many years at the Colorado Mountain Club and in the alpine of Colorado.  
---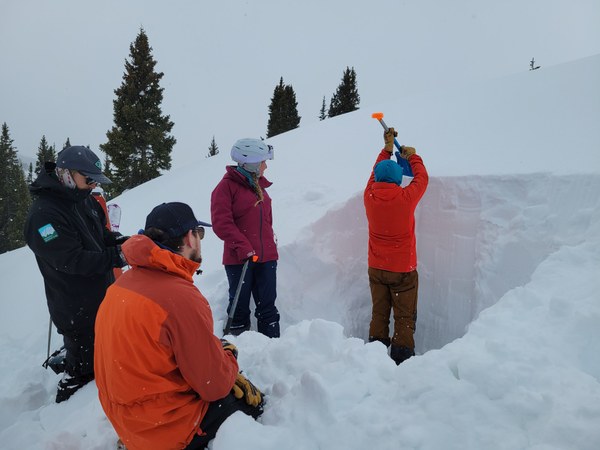 Matthew Rothrock and Shane Tulp used the Eckart Roder Fund to complete AIARE 1 training with Silverton Avalanche School in Silverton, CO in December 2021. Through the support of the Roder Fund, they were able to participate in the training which was integral to their positions as CMC backcountry Snow Rangers. They learned snow science: how to read avalanche forecasts, analyze weather patterns for avalanche risk, read terrain, and dig/analyze snow in snow pits. They also learned beacon search techniques and how to probe for and dig out other skiers involved in avalanches. This knowledge goes a long way in teaching other skiers how to assess risk and avoid terrain that may put them in danger. These training sessions are vital for all members of the backcountry community to be able to assess and discuss risk in the same manner. Matthew and Shane can now more easily communicate safe choices to others and their team. Focused on Red Mountain Pass and Grand Mesa National Forest, their winter as CMC Snow Rangers was spent patrolling high use areas to educate the public about proper winter stewardship and collecting data to better understand winter recreation use. You can learn more about the CMC Snow Ranger program here. 
---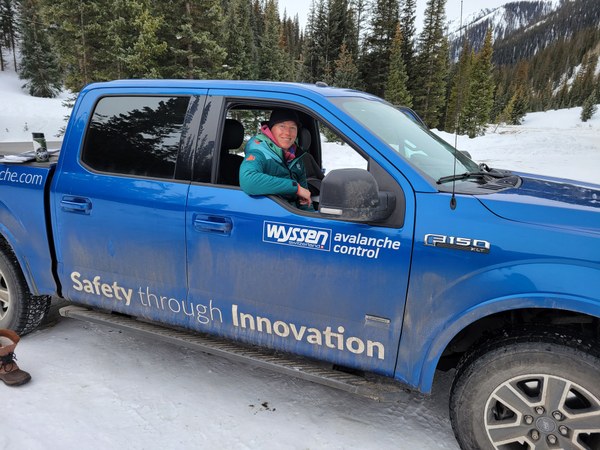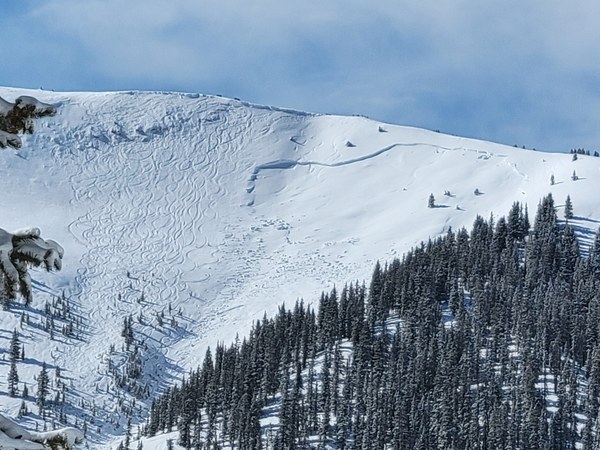 Kristen Buckland was able to attend an Avalanche Professional Level 2 course with the support of the Eckart Roder Fund. This course was operated by Silverton Avalanche School in and around Silverton, CO over six intense days in January. It is the capstone course for experienced avalanche professionals in the country and accredited by the American Avalanche Association.  
About 18 students, including Kristen, attended this course. The student group consisted of ski guides, cat ski guides, and ski patrollers. They were divided into three teams and assigned a backcountry zone to develop into operational zones. Together they created an operational plan in their zone for a backcountry ski guide operation, a motorized backcountry guided area, and a ski resort. These operations required identification and mapping of avalanche slide paths, classification of terrain, and avalanche mitigation strategies.  
Over the six day course, Kristen learned how to supervise a team in avalanche terrain, how to create and implement a risk management plan, and how to analyze snow, weather and avalanche characteristics. This valuable experience and knowledge will improve her abilities to teach backcountry avalanche education courses for the Colorado Mountain Club Pikes Peak Group. 
---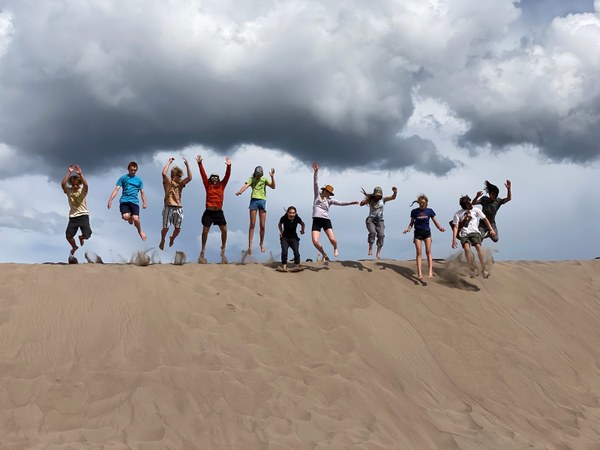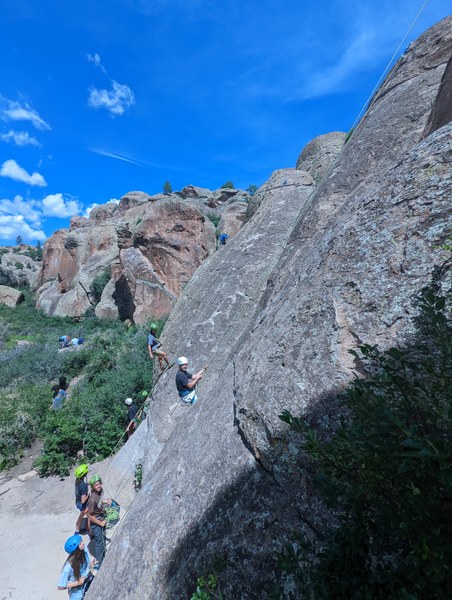 The Eckart Roder Fund contributed to student scholarships over the summer in the CMC's Youth Programs. One camp took nine teens, including two scholarship recipients, to Penitente Canyon and the Great Sand Dunes in August. This trip involved camping, backcountry cooking lessons, intermediate/advanced rock climbing technique and practice, mountain safety, wilderness ethics and more. One instructor recounted a magical moment the group shared on their final evening, highlighting lessons learned in mountain responsibility, safety, and connection: 
On our most recent overnight trip, we got to take an amazing group of nine 14 year- olds to Penitente Canyon and the Great Sand Dunes National Park. This group was energetic, outgoing, and quickly became good friends. On our last night, we all decided to make the trek and do a night hike to the top of the sand dunes. The team started off with a quick pace that led to a great conversation about adapting our pace to everyone in the group. As we continued up, we took multiple stops to evaluate the group's willingness to continue. Even though a few group members were feeling exhausted after several days of climbing prior, everyone agreed to stick to the goal and make it to the top. As we pushed on to the top, the group, like a chorus, sang words of encouragement to one another, providing constant support the whole way up. When we finally made it to the crest of the sand dunes, I saw how proud they all were that they persevered. For a group that was almost never quiet, the instructors were surprised when they all agreed to a silent 5-minute stargaze and reflection. As our group laid on top of these great sand dunes, I really believe that these teens were truly able to completely ground themselves in nature, each other, and themselves in that moment. As we peered up into the night sky, we all experienced the magic of a shooting star together. We reflected on the amazing week and stopped for a moment to take it all in. When it was time to head back down, they all begged for a few more minutes of quiet on top of the great sand dunes. Nothing was more important in that moment, so we stayed a moment longer, silent, connected, grounded, and away from everything else.  - Hana Hamilton, CMC Youth Program Coordinator, 8/4/22
In addition to this magic moment, another instructor responded to a climbing accident where he provided wilderness first aid. The group showed an immense interest as the instructor used this moment to teach about mountain safety and preparedness. Even when there is structured curriculum, a lot of learning happens naturally when time is taken to stop and learn from each other in the mountains. 
Lastly, Youth Programs has received a lot of feedback this summer from parents that one of the biggest takeaways their children have had from the camps is bringing the 10 essentials. Comments describe how their children are taking an active leadership role in ensuring their entire family is prepared for hiking trips now. A proud moment for the Youth Programs team and a great takeaway from the students.