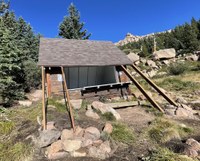 The A-Frame built in 1964 by the Forest Service as a refuge for Barr Trail hikers possibly seeking shelter from an upcoming storm or maybe a staging point for an early sunrise ascent of Pikes Peak.   It's been used by the AdAmAn Club to stop and flash their mirrors signaling family and friends below.  As Mark Silas and I found out it's also a very cozy little camping spot for the night, early in August as we started painting, measuring and making plans for its later renovation.  It has such gorgeous views of the eastern plains, stunning lights of the city below at night and magnificent sunrises.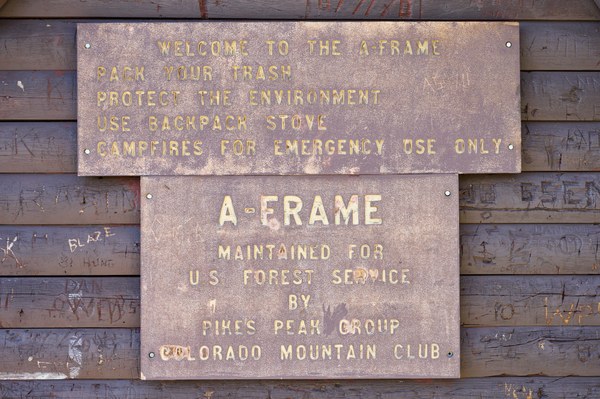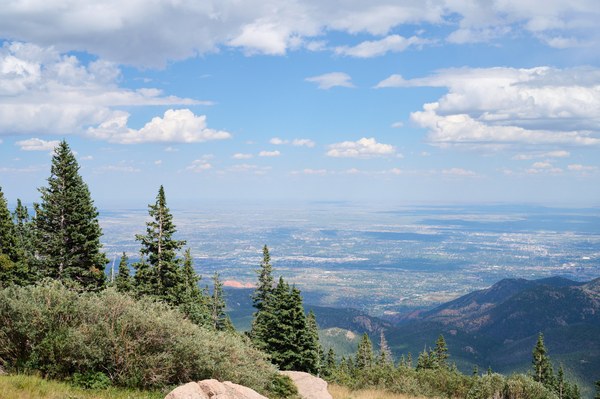 The Pikes Peak Group (PPG) took over its maintenance in 1991 for the Forest Service (FS).  It's location along Barr Trail at about 11,664 elevation and 3 ½ miles from the top of Pikes Peak do not lend itself to easily carry the heavy materials needed for its up keep.  The PPG, in 1984, repaired the foundation, walls, new roof and added a wood burning stove.  In 1991 they decided to remove the stove as trees were being cut, ashes dumped in front and the stove was deteriorating.  In mid 1990's replaced some floor boards as a hole was burned in its center.  In 2008 added a new roof and it was painted.  The shingles and trash from that project were removed by the PPG in 2010.  For the work done in 2022, we started planning and talking with the FS about these repairs in 2016 but various things came along each year and then two years of Covid got us to this date.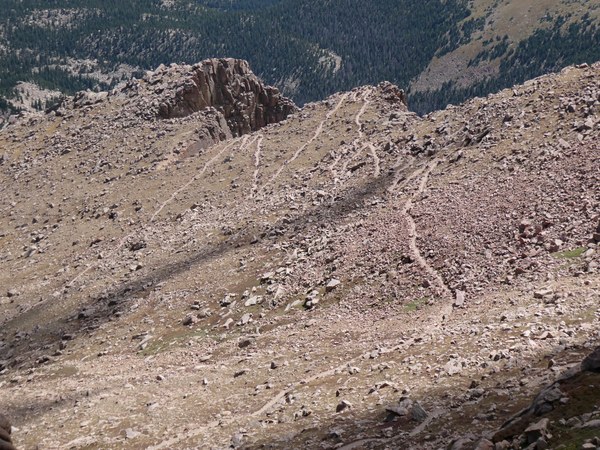 Its location does take a beating from the elements but maybe more from its temporary human occupants.  In the early days, possibly before magic markers, people used their knives to carve their initials and even full names deep into its wooden structure.  Although it's posted "no campfires" a large hole was burnt in the floor and through the outer wall.  Thank goodness they did extinguish it, but please no fires!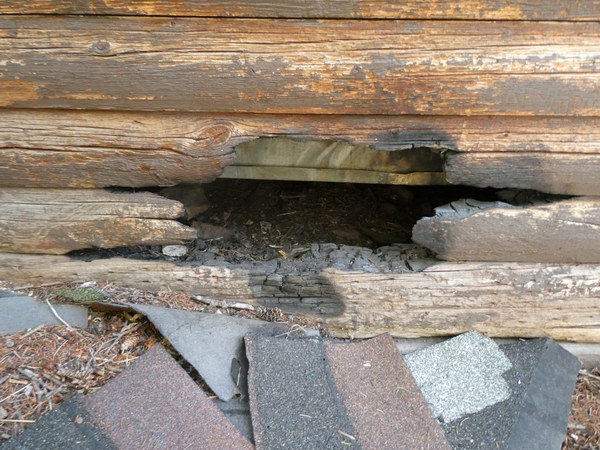 This year's plan was to have all the materials, 1,040 lbs. or 13 packages of shingles, nails, screws, ladder and tools along with 8 – 2x6x14 ft treated boards to replace the splintered front supports at the A-Frame over Aug 21 & 22.  The previous 2x6's seemed to be the originals.  The next weekend was to do the construction.  As early winter storms moved in with snow, rain and strong winds that was cancelled.
 The new plan was to move all the material and do the construction on the following weekend.  What an amazing turnout of CMC members but also the number of guests volunteering to carry material with a dedicated group camping at the A-Frame to install the material upon arrival.  And we came so close, lacking only 2 packages of shingles and 2 of the supports.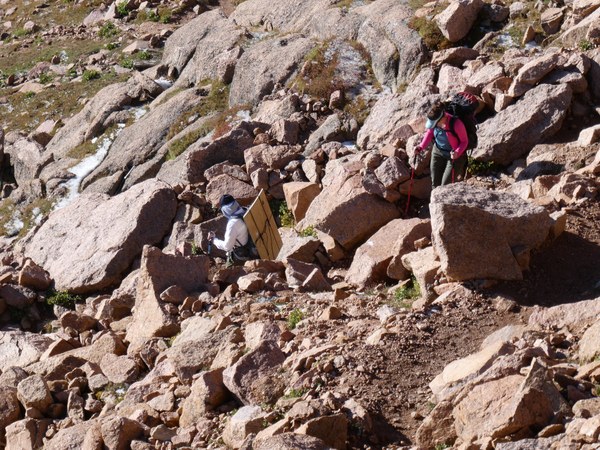 The very next weekend it all came together with a better knowledge of how to move these cumbersome 14-foot boards down the 16 Golden Stairs and beyond.  By 4pm we were back at the top giving high fives, celebrating by drinking Gatorade and being so amazed at our accomplishment.  So, a huge thank you goes out to all the volunteers, the Forest Service and employees with America's Mountain for assisting us with this huge endeavor. Over the 8 total work days, there were 37 individuals expending over 800 total hours to this effort, with some even working multiple days.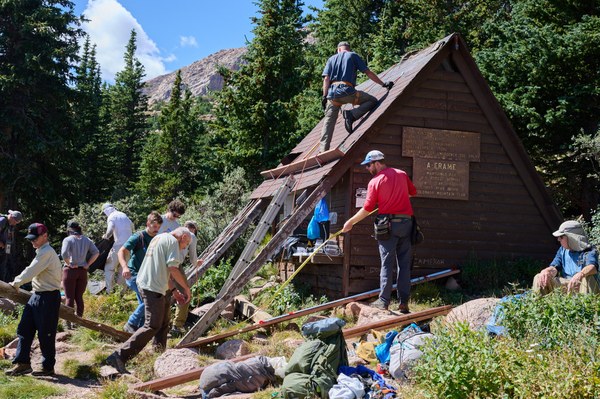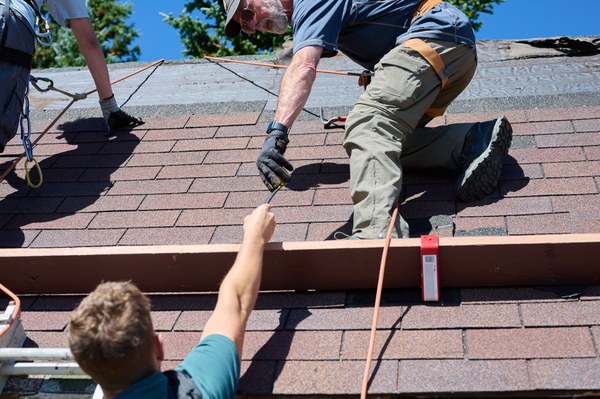 So, when you are hiking by the A-Frame give it a quick visit, enjoy a picnic or overnight and give a big thank you to all the folks that again made this little shelter sparkle like the gem it is.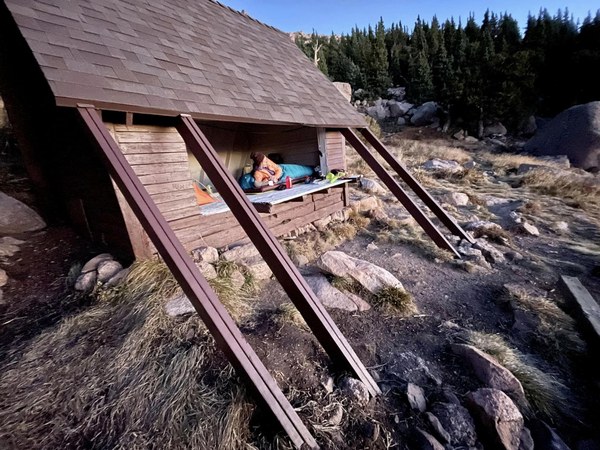 As a side note; too often in our mountains people get into dangerous situations, they are not prepared and not in condition to do the 12 ½ mile hike up Barr Trail.  While hiking up some of our group came upon a lady physically spent, dressed in shorts, t-shirt and carrying a lite rain jacket. A brief storm had moved in bringing colder temperatures, she was wet, out of food and water.  They were able to give her warm clothing, water, nourishment, encouragement and hiked with her to the top where the EMT's were able to take care of her.  It was a very good ending to what could have been a rescue.  Thanks to all the individuals helping this lady safely to the top.