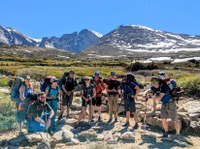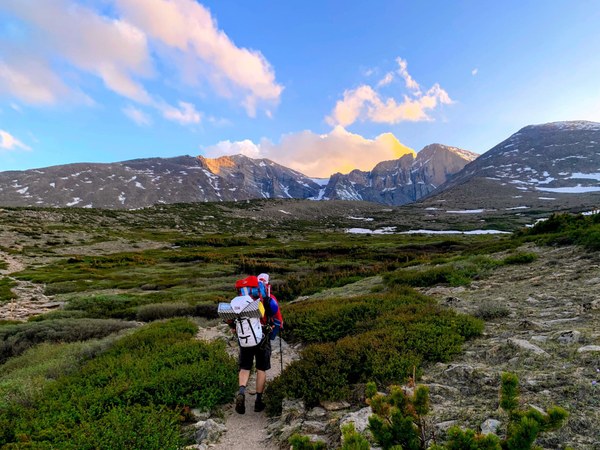 Guest post and photos from Colorado Mountain Club instructor Jon Hieb
How do you define success in alpinism? What makes a good trip? An effective plan? A valuable and worthwhile class? What is the goal of Alpine Climbing School?
We asked ourselves this last year when we began to plan the curriculum. These are difficult questions that have multiple right answers. Broadly speaking, I think they all share three essential components: that we grow as climbers, that we experience something that inspires us, and that we all return safely — however exhausted, scraped, and sunburnt — to our homes and our loved ones.
Effective trip planning is a creative endeavor. Like so many others, it is held in tension between science and art. It is science because it requires research, repeated trial and analysis, thoughtful input from everyone involved, and – like all science – the most important factor is the rigorous examination and challenge of one's own assumptions. How much is too much? What can we realistically achieve? And perhaps most importantly: What will we do if we can't? You learn to anticipate everything, but expect nothing. You learn to think in terms of options, not certainties. We know the mountains are full of rock, snow, and ice, but they are also full of surprises. Sometimes it's as simple as finding snow where you expected rock, or ice where you expected snow. Usually this can be dealt with by making a field decision to adjust your plan.
Sometimes the surprises are far more consequential.
A trip plan is art because realization requires both interpretation and execution. Just as the viewer is a necessary and active participant in art, the execution of a plan in the field relies on the active engagement of everyone on the team.
When ambition meets nature under the looming granite walls of a formidable peak like Longs, it is only through teamwork that a plan becomes an experience. Herein lies the true test of plan and person: Can we achieve this task we have set for ourselves?
And like art, the experience of a climb is subjective. It is unique to every participant. A good alpine climb demands that you grow, that you rise to meet a challenge, to approach but never exceed your potential; and no two climbers will be challenged in quite the same way.
When the trip is over, we each must ask ourselves what we have learned. The lesson is always there. What could you have done better? What would you do differently? If you have no answer to this question it is likely that you are just not looking hard enough, because all of us, no matter how experienced or green, are on a journey of growth. All of us have something to learn from the mountains.
If we didn't, why would we go in the first place? Why would we return?
It is a question often asked by the uninitiated – but not by those of us who have experienced the alpine. It is an understanding we all share implicitly. Because although the answer is ineffable, the mountains speak for themselves.
Come, climb. You will understand too.
I offer my heartfelt congratulations and praise to the students and instructors of "Talus About It," my 2021 Alpine Climbing team, for their success and their graduation. For the program finale, we ascended the iconic Longs Peak via a challenging, technical, and circuitous route that took them up Lambs Slide, down a 60m free-hanging rappel into the Notch, up to the Longs Peak summit, and back down again via the Cables route. It is a remarkable achievement and would not have been possible without the passionate engagement of every person.
We all returned safely from our climb, though it was a long and difficult day. I know that the students have all grown as climbers, because I have seen it. It is my earnest hope that they have also been inspired.