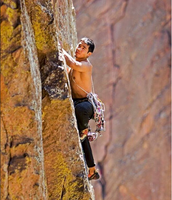 Pemba Sherpa has been involved with the CMC since the '90s. After migrating to the United States from Nepal, Pemba has dedicated his life to giving back to the people of Nepal. From creating viable infrastructure high in the Himalaya, to starting a company that shares profit with Nepal, his humanitarian efforts have made a true impact. Pemba will be co-leading a CMC Adventure Travel Trip to Nepal in September 2019. Learn more at: www.cmc.org/AdventureTravel/AdventureTravelTrips/NepalAnnapurna.aspx                                                             
Namaste Friends:
My name is Pemba Sherpa; I want to share my brief life story from my time in Nepal and the United States. For the past 28 years, I have lived in Colorado, where I enjoy a comfortable life as a successful businessman. But each year, I return to the Khumbu, Nepal and am reminded of where my journey began.  I was born near the village of Sengma, into a family with 12 children. As farmers and herders, we lived in a stone house with no electricity, plumbing, or running water. Growing up in the Khumbu made me appreciate the simplicity of life—meeting the basic needs of food, water and shelter. There were few complications beyond that. To be a Sherpa is to be a member of an ethnic tribe that migrated to the Khumbu. For centuries, Sherpas lived in isolation as farmers, herders, and traders. Only when Nepal opened its borders in 1949 did outsiders begin to visit the Khumbu. Since then, the name 'Sherpa' has become synonymous with high altitude guiding.
At 14, I got a job in the trekking industry, working my way up from helper to guide. At 19, I migrated to the United States, where I started guiding for the Colorado Mountain Club and other outdoor organization, bringing clients with me on adventures around the world. I worked as a guide for twenty years before opening my own restaurant.
Successful at business, I turned my attention to improving the lives of Sherpas in Nepal: donating money for schools and medical facilities, transporting clothes and supplies to the Khumbu, building a suspension bridge and hydro-electric facility near Sengma, and leading a fundraising campaign for victims of the 2015 earthquake. In 2014, our restaurant launched a line of bottled chai drinks called Sherpa Chai. A percentage of sales goes toward philanthropic projects in the Khumbu. My goal is to buy land in Nepal to grow tea for the company. To run the plantation, I want to hire Nepalese women who have been victimized by the sex trade.
Nepal has seen major challenges in the past few years, with political instability, 2015 earthquake, and the royal family's assassination. Nepal is recovering, but still needs help. The main sector for Nepal's economy is tourism and agriculture. One way you can support Nepal is by visiting the country. Fortunately, Nepal is one of the best places to trek in the world. The CMC has an Adventure Travel trip going to Annapurna Sanctuary in September 2019 that I will help lead. This trek is a shimmering, mountain-ringed, glacier basin in the heart of the Annapurna Himal—and is one of the most intensely scenic treks in Nepal. This trip will offer great cultural and geographical diversity, as well as outstanding mountain views. Annapurna Sanctuary was rated by National Geographic as #18 out of the 100 most beautiful places in the world. I hope you will join us as I return to Nepal, and help me in investing and supporting the people of Nepal.
Cheers,
Pemba Sherpa