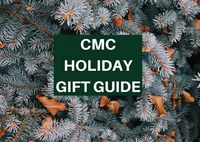 We've compiled a list of the best gifts from our favorite collections to make the decision on what to get for everyone a little easier this holiday season, all while supporting a local non-profit! 
BEST STOCKING STUFFERS: 
Get a reset from the city noise while exploring new heights. This powerful pack guide is stuffed with tips, routes, and gear advice for scrambling the iconic Flatirons above Boulder, CO. 
Take a break from the office to get some fresh air in your backyard with this CMC pack guide that fits anywhere. The Queen City of the Plains has more hidden gems that await your discovery, with over 30 trails all close to home. 


ROADTRIP VIBES:
From family-friendly to notable treks, The Best Canyonlands National Park Hikes showcases the best of this memorable Utah National Park. Get the car packed up and plan the next campout with the whole family. 
Take your SpaceForce team to Mars! This National Park is so stunning it seems like another planet. Plan your escape with this CMC pack guide to explore the best that Moab and Arches has to offer. 
FOR THE PLANT ENTHUSIAST/BOTANIST: 
A full-color field guide to the magnificent flora abundant in the Rockies makes it simple to find some peace and solace. Get a break from the screens and discover a new plant to fawn over. 
Make a scavenger hunt for your favorite flowers and get some bonus elevation gain. This compact pack guide explores the best of the Front Range from Denver to Rocky Mountain National Park that focuses on easily accessible trails and excellent flora. 
BACKCOUNTRY ADVENTURERS: 
Find fresh powder this season without the anxiety of resorts. The backcountry guide gives the downhill thrill-seekers detailed routes, trail-markers, and gear advice so you don't miss one weekend of fun. 
Take a quiet weekend trek with the family or a solo escape from the house with this essential guidebook to the best snowshoe routes along the Front Range. Find comfort in the tall trees of the Rockies and revel in the peaceful scenery. 
2021 RESOLUTIONS: 
With over 1500 trails and mountain peaks to explore, this is consider the essential Colorado guide for any and all hikers, backpackers, and trail-runners. Make 2021 the year of summits. 
Make a dent in your bucket list in 2021 with this complete guidebook to all the expectations, variations, and sights of the legendary Colorado Trail. Plan a months long excursion or break it into weekends with your pup! This guide is complete with color photos and detailed route info to be well-equipped for anything.