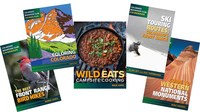 Dreaming of next summer's camping trips already? Or are you ready to strap on your skis and explore Colorado's winter wonderland? These books from CMC Press make great gifts for friends, family members, or even for yourself. We've compiled a list of the best books, from stocking stuffers to expedition planners, to make the decision on what to get for everyone a little easier this holiday season. 
FOR THE CAMP CHEF: WILD EATS
This no-fuss cookbook features 60+ recipes, from breakfast to dessert. Learn to make your own backpacking food with simple dehydrator recipes. Want to wow a crowd on your next car-camping trip? This book is also packed with easy campfire meals and tips on how to master cooking with a Dutch oven. There's even a recipe for how to make the perfect s'mores!
PLAN YOUR NEXT ROAD TRIP: GUIDE TO WESTERN NATIONAL MONUMENTS
This guide covers where to hike, camp, climb, and see the sights in 70 of the nation's national monuments across the western United States. Enjoy spectacular scenery and fascinating history with relatively few people (compared to national parks). Covering Arizona, California, Colorado, Idaho, Montana, New Mexico, Nevada, Oregon, Utah, Washington, and Wyoming, this book is perfect for planning your next road trip!
COLORING FUN FOR ALL AGES: COLORING COLORADO
Relax and have fun while coloring 49 beautifully drawn images by Jesse Crock. Coloring Colorado features drawings of some of the state's iconic peaks, such as Mount of the Holy Cross and the Maroon Bells. There are wildflowers and aspen trees as well as iconic sites like the Blue Bear at the Denver Convention Center. Coloring is fun for anyone, from age 3 to 93. 
WINTER WONDERLAND: SKI TOURING ROUTES: COLORADO'S FRONT RANGE
Earn your turns and find fresh powder this season without the crowding of resorts. This backcountry guide connects readers with the most classic ski trails that can be accessed in a day from every major Front Range city. Features over 95 routes, from easy to challenging, along with avalanche safety and gear information. Find the best ski touring spots right in your backyard. 
FOR THE BIRD LOVER: BEST FRONT RANGE BIRD HIKES
Dust off your binoculars and get ready to hit the trails in time for spring migration. This guide is packed full of information for birders, including 30 of the best trails for birding along the Front Range, information on 175 species, and the best seasons for spotting them.