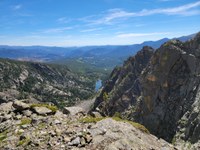 By Victoria Miller, CMC Stewardship Crew Member
Hi there, I'm Victoria! Since the beginning of May, I have worked with Colorado Mountain Club's trail stewardship crew, learning technical skills and training to be able to clear downed trees, cut new trails, as well as reviewing the basics of both front-and back-country skills. Before this position, I had quite a bit of experience in the field of biology, especially with remote field surveying and the like, but I had never worked doing anything trail related- in fact, most of my work I've done in the past has been entirely off-trail- so it was new to me and I was excited to learn new skills that I would be able to use throughout my entire career in the conservation field. 
The first week on the job I was able to meet my crewmates as well as two of my managers, and very quickly jumped into a week of learning new things– who knew that building trails had so many complex parameters?! Throughout the weeks we were trained on spotting trail issues, working on check step and water bar placements, identifying and solving tread problems and, in the last week of training, we were each cross-cut certified by the USFS to learn how to properly use a cross-cut saw to remove downed trees from the trails. Our worksite was absolutely gorgeous.
During the week of crosscut training up near Steamboat Springs, CO, I was finally able to break out my tent to camp for the two days of hands-on crosscut training- if you're anything like me, there's something magical about waking up in the mountains, hiking in beautiful country all day, and getting paid for it, too. Crosscut training was eventful and fun, learning the many different ways of cutting and all of the safety protocol was interesting and our forest service teacher was wonderful to learn from.
Finally, after getting trained and becoming certified crosscut sawyers, my crew was ready to set out on our first real week in the field. Our first stop? Two weeks in Gunnison, CO working with the Gunnison Trails crew polishing and cutting new tread for their mountain biking trail near signal peak.Working up in Gunnison was excellent. The Gunnison Trails crew was wonderful, teaching us how to cut new trails, working with us to build a super sick new rock wall and so much more. I learned more in that first week about trail building than I thought I could ever know, and it helped that the Gunnison crew was extra fun to work with, making the days speed by. We laughed and joked and enjoyed the work even on days where the heat was almost unbearable and the sand was blowing dust into our every crevice. The views, community, and connections made every minute worth it.
If you're anything like me, and the outdoors are your passion through all of the crazy weather, insects and long miles in hiking boots, then I would strongly encourage you to get out there! Whether you have a job you love and are a weekend-warrior, or if you're even looking to change your career, I would absolutely recommend volunteering with trail or conservation crews in your free time, or applying for a job doing conservation work like this– because there is absolutely nothing like making a difference while doing what you love.