We are so thrilled and grateful for the dedication, time, and energy CMC Trip Leaders put into leading trips. We wouldn't have a successful recreational club without the 284 trip leaders who gave their time to lead trips last year for the club! Additionally, there were 30 leaders who led 10 or more trips last year—that averages to almost one trip per month for these dedicated leaders. We know leading a trip takes much more work and leadership skills outside the time spent from trailhead to trailhead. We value all of the time and effort it takes to research a hike, scout a mountain biking trail, post a trip on the website, review the Leader Manual, and correspond with trip participants. 
In fiscal year 2022 (measured from October 1, 2021 thru September 30, 2022), CMC volunteers led 10,000 participants on 1,374 trips. This averages to 3.7 trips occurring every day for the whole year! The total mileage of trips, including hiking, snowshoeing, skiing, biking, and climbing trips, was 11,309 miles.  
Thank you for all of these efforts, trip leaders! CMC trip leaders created an incredible amount of opportunities for folks to get outside and explore Colorado. 
2022 Leaderboard for 10+ Trip Days Led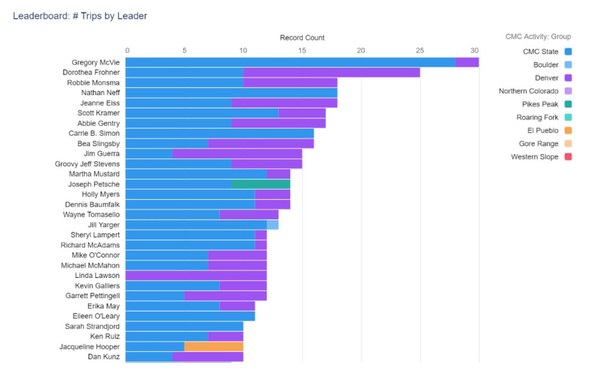 ---
Highlighting Our Leaders
In 2022, Gregory McVie (Denver Group) led the most trips at 30 trips. Dorothea Frohner (Denver Group) led 25 trips throughout the year and Robbie Monsma, Nathan Neff, and Jeanne Eiss all led 18 trips in 2022. 
Jeanne Eiss (Denver Group) is a part of the Rocky Mountain Over the Hill Gang. Jeanne says she loves leading trips because "RMOTHG members are so much fun and fellow trip leaders are so amazing and supportive!!!". Here are a couple of pictures from hikes Jeanne led in 2022: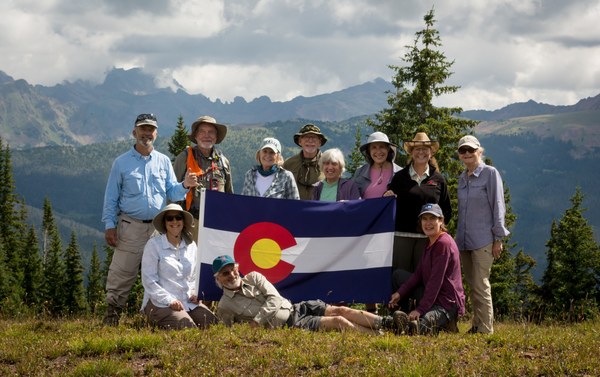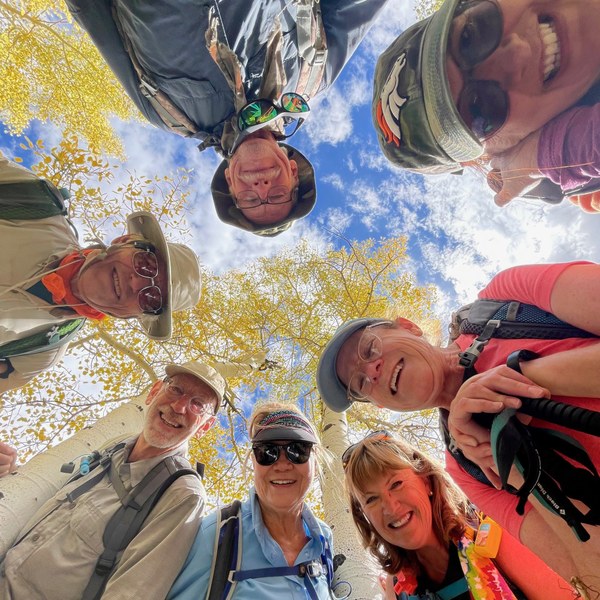 Similarly, Holly Myers (Denver Group) expressed that she enjoys leading trips for the CMC because "[she loves] being in the mountains and in nature and wants to share the experience with others. She is "creating a community of friends to hike with" while finding new areas of Colorado to explore.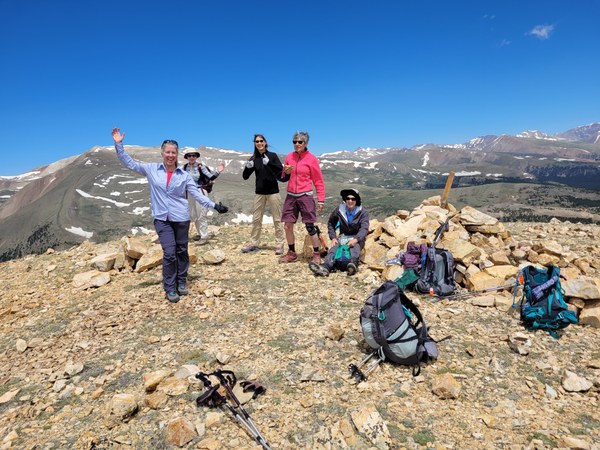 Creating community pops out as a central reason for why leaders choose to volunteer to lead trips with the CMC. Spending time outdoors, in nature, exploring the beautiful landscapes of Colorado is just more fun when done with others. Dedicated trip leaders are able to create community by leading many trips a year, fostering long-lasting friendships with other trip leaders and participants by spending quality time together in the outdoors. In addition to building community, many trip leaders express the importance of less experienced folks finding mentorship while pursuing outdoor hobbies. The CMC has been a place of mentorship for decades. Trip Leader Robbie Monsma agrees: "Certain leaders were so generous in teaching me about CMC and the mountains when I first started at the club [and] I want to keep that tradition going." It is great to see CMC leaders pass on their wealth of knowledge and experience to newer leaders in the club. 
---
Become a Dedicated Trip Leader
Feeling inspired to build community and hone your recreational leadership skills with the CMC? Learn more about the Trip Leader School process here. Leading and providing trips for club participants is a huge aspect of creating a fun, safe, and fulfilling mountain club. CMC can't wait to see photos and hear stories from the trips you lead in 2023!