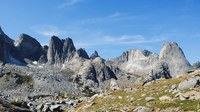 Written by Bella Biondini
She could see blue lakes spread across the landscape far below. It was like walking on a rope made of stone. 
The classic East Ridge of Wolf's Head Ridge is in the remote Wind River Range of western Wyoming. The rugged cliffs of the Cirque of the Towers in Bridger-Teton National Forest are composed of world-class alpine granite and attract climbers from across the country.
The rock ledge dropped thousands of feet to each side. Slivinski gripped the rock, trying not to let the exposure get to her head. 
Slivinski started climbing in the northeast amongst the horizontal cracks of the Shawangunks of New York and the granite of New Hampshire. Her first introduction to climbing was an act of chance. 
In graduate school, a friend insisted for Slivinski to join her at the climbing gym. After a frustrating day, Slivinski felt an immediate distaste for the sport. But something made her return a second time and try again. 
At the time she was working on her PhD, and drowning in stress. 
"Being able to go to a climbing gym and work out problems physically instead of staring at a piece of paper and my computer was what I needed at that point in time," Slivinski said. "I could actually solve these problems and see quick gains in my strength and ability to climb."
She was hooked. Soon she ventured outdoors and across the country, enjoying the vast variety of  features each kind of rock provided. 
Her job moved her to the mountains of Colorado, where she joined the Colorado Mountain Club in 2016. She attended Basic Mountaineering School and began to build and expand her skill set. 
As her confidence grew she transitioned from sport climbing to trad and crack climbing, scaling granite giants and vertical desert sandstone. Slivinski experimented with jamming her hand into cracks in different ways to see if it fit, pulling herself upward by her taped hand. 
"I hated crack climbing the first two or three times I did it," Slivinski said. "I didn't understand. Then there's this moment that most climbers have where you get your first hand-jam that actually works. It was mind blowing. It was amazing how easy and comfortable it was." 
Her love of rock climbing carried her from coast to coast and across the United States. In the future she hopes to scale the alpine Bugaboos that tower over the glaciers of British Columbia, as well as the rugged mountains of Patagonia. 
Q&A WITH LAURA  
What is one important thing the CMC has helped you achieve during your climbing career? 
CMC helped with my confidence in planning and executing trips and objectives, but the most important thing was to be prepared! My partner and I were on a backcountry ski trip last December. We were skiing on mellow, easy terrain, but the snow was thin. My partner hit a rock and broke his leg. The accident was completely unexpected. Be prepared for situations like that. There will be times you don't think it will be a high-risk activity, but you never know what you can get into. It's important to have a back up plan. Tell someone where you are going. It's easy to become complacent when nothing bad happens. And if something happens it is your responsibility to be ready. 
What is your favorite type of climbing? 
I think my favorite is still alpine climbing. It usually involves a long approach in the remote wilderness. I like to describe it as trying to get to the top of a mountain that you can't just hike up.  I haven't done as much of this, but it's been a totally different experience. It's a multiple-day workout and adventure in the middle of nowhere. 
How did you transition from indoor to outdoor climbing? 
I climbed for a couple months inside. The first time I went outside was a day in Connecticut when I top roped something I couldn't even finish. It was really different climbing on real rock and not plastic. It's fun to climb indoors because you can push yourself and try weird fun moves and feel really strong. But ask anyone, it's way better to be outside than inside always!
Why is climbing important to you?
It's hard to answer this question because my relationship with climbing has changed over the years. During graduate school the most important part was being able to mentally check out. It was meditation for me. I was able to go to the gym and not think about the homework or the research that was going on during the day. I could focus on whether I should reach with my right hand or my left hand. All of those little puzzles I had to solve demanded all of my attention. That was my favorite part for a long time and sometimes still is. The second reason is for a lot of my life I had never felt physically strong. Becoming pretty good at climbing reasonably quickly did a lot for my self-confidence and allowed me to be able to see myself as strong. 
What is your advice for new climbers? 
The most important thing from the very beginning is not to make it about comparing yourself to other people. Try and focus on your own development and enjoyment of the sport.