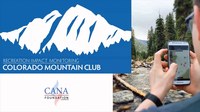 Written by Bella Biondini   
The Colorado Mountain Club in 2019 launched CMC RIMS, an acronym for recreation impact monitoring system, as a new method to collect data on the public lands of Colorado. The mobile app was created to help agencies like the National Forest Service and local land managers make better decisions about stewardship, planning and land management. 
Colorado's population is continually increasing along with the public's demand for recreation. More than 4.6 million recreational visitors traveled to Rocky Mountain National Park in 2019 alone, according to the National Park Service. This represents a 44% increase in the number of park visitors since 2012.
"A lot of people are interested because recreation is part of our culture," CMC Stewardship Coordinator Connor Maher said. "People will go out and use trails, but they don't understand what goes into them or how they are maintained. This app helps with awareness. You are making an impact."
CMC Conservation Director Julie Mach works in Salida, Colo., also known as the Heart of the Rockies because of its central location and proximity to several mountain ranges. She said she first noticed a need for a new monitoring system five years ago working with the CMC's stewardship volunteers and trail crews.
Colorado recreation is important to measure, she said. Agencies need data to prioritize projects, but they are often both underfunded and understaffed. Some individual staff members can be responsible for monitoring 500+ miles of trail, making immediate field issues difficult to uncover. Land managers need help filling those gaps to understand how recreational use and natural resource impacts overlap.
Recreation and conservation groups need data to understand and mitigate impacts to Colorado's delicate and heavily trafficked areas, Mach said. Their crew had tools, but no information.
Some field offices are responsible for remote and vast terrain that aren't surveyed for decades at a time, Maher said. Public land and trail monitoring through the RIMS app allow land managers to focus on areas that need immediate attention. It's an effective tool for people to feel more involved and informed about public lands, Maher said.
The app features four main monitoring modules: visitor use, trail assessment, camping assessment and signs and facilities. RIMS allows users to assess the overall condition of public lands and facilities. Land managers want to know: Does an issue meet agency standards?
Conditions are rated as excellent, fair, poor and extremely poor. Poor describes an area where urgent work is needed such as a downed tree on a trail. Extremely poor relates an immediate access or safety hazard issue such as blockage due to avalanche debris.
RIMS engages users in an effort to help land managers increase their agencies efficiency when monitoring areas with both high and low levels of recreational use.
The RIMS app is only a small part of an expanding project. The data collected feeds into a larger data repository, and algorithms will create dashboards for public land managers to interpret the information. 
The app uses geo-located point data, although developers plan to expand to linear data that would trace hiking tracks in the future. Each point collected is associated with a GPS coordinate allowing it to be viewed on a map.
Trail assessments monitor tread, structure and other ecological impacts like waste, noxious weeds and livestock. The camping module assesses a campsite's overall impact and ground disturbance, as well as its distance from water and trails.
Visitor use monitoring is important for both summer and winter seasons, Mach said. Users can give observational counts of visitors and vehicles at trailheads or in the field. The parking component alerts managers to view where overflow is occurring.
RIMS operates using a cellphone's internal GPS locator and is usable offline in the backcountry. Assessments can be saved and synced later when users return to service. They can be shared directly to land managers or volunteer groups so problems and field issues can be addressed quickly.
CMC Member Hilary Kunz spends a lot of time out on the trails and now incorporates the RIMS app into her hiking routine.
"I like being open about the app, especially when I'm with a group," Kunz said. "Often they get interested in what I'm doing and want to learn more about how they can get involved."
Mach said she looks forward to the expansion of the project. Wide adoption means more data, and the more data, the better.
"We have the capacity to add other modules and to overlap information with our conservation work," Mach said. "We want to understand the impact users have on the ground."
RIMS could also help answer questions about soil and vegetative impacts, along with erosion and water quality monitoring, she said. But for now they are focusing on dispersed campsite mitigation and naturalization, as well as visitor monitoring during peak seasons.
Maher and Mach have a few tips for new users who want to get involved:
Maher recommends users form their own individual data collection plan.
"Pick things you are familiar with and understand how much time you want to dedicate to updating reports," Maher said. "If you camp a lot, inventory those. It's up to the user where they want to focus."
RIMS is free to download and available to both volunteer organizations and the general public. Mach encourages users to complete a brief training available through the Colorado Mountain Club to unlock more features.
 "It can be a little overwhelming at first," Mach said. "It takes time to understand where everything is located, but practice will make it easier."
In its pilot year, the app's main focus group was existing volunteer groups, but Mach said she hopes it will start reaching the broader public and eventually expand outside of Colorado.
"We've got a great way to bring all the information together in one place, so we can make better decisions to protect these lands we love to go and play," Mach said. 
****** 
To get started:  1) Watch the Online Training Video  2)  Take the Quiz  3) Download the App by searching "CMC RIMS" in the Google Play or Apple App Store