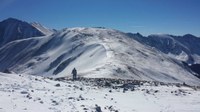 Incident: Group turns around due to potential Cold Injury
Date: March 27, 2023
Type: Near Miss / COld Injury
Incident Narrative: A group from Colorado Mountain Club was headed up to Grizzly Peak as part of a training climb for the Alpine Climbing School. A male student appeared fatigued from early in the trip, and admitted on first check-in with him that the altitude was getting to him. Subsequently, the volunteer leader kept continuous observations and checked in several more times. At a stopping point, he checked in again, and noticed white frostnip patches on his right cheek and nose. The leader instructed the participant to cover the affected area with a buff, and the decision was made to immediately turn the trip around and return to the trailhead.
Incident Analysis: The concern for cold injuries is good for leaders to recognize and also communicate. As described, this can be mitigated by assessing conditions pre-trip and discussing how to manage them during the hike. The trip leader mentioned fatigue which could be contributed as a secondary cause, leading to poor self-care (managing layers / goggle to prevent skin exposure).
Further reading:  Wilderness Medicine: Frostbite 101