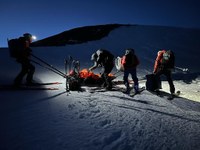 Alpine Climbing School: team ridge climb
Location: North Star Mountain
East Ridge of North Star: Mountain Project
The initial call location was: 39.378154, -106.104734
The estimated elevation of the incident is 13,082'
CAIC report: April 16, 2023
FB Post from Summit County Rescue Group: Link
Date: April 16, 2023
Injury type: Abrasion, laceration, dislocated patella
Conditions of terrain: Rock, Snow, Ice, Off Trail, Scrambling
Mode of travel: descending
Immediate cause; Fall or slip on rock/snow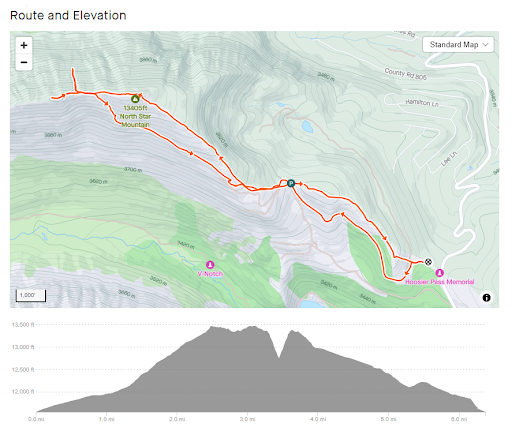 Report from Assistant Leader:
Initially, we had planned to climb Mt Guyot but the road was snowed in. We decided to go to North Star which was our backup plan. I had climbed it before with students. We started climbing North Star before 8am. Everything was pretty normal on the way up despite the late start. One of the Assistant Instructors and a few the students got tired and turned around before the rest of the group. The rest continued up the ridge. At 12:30 our group reached the last of the false peaks and decided it was best to turn around. Everyone seemed to be moving fine during the day, and nothing stood out regarding tiredness or fatigue. 
Close to 1pm Trip Lead "TL" reported to Senior "Sr" that a student "X" fell. TL pointed very far down a couloir on the north side of the ridge to where X was. Sr saw patient was sitting upright, alert, able to speak, and moving head/arms, began assessing safety of entering couloir to render aid. We determined who had radios and inreach and asked to standby for further instruction, entered couloir and quickly approached patient in a safe controlled manner, shouting questions to determine scope of injuries. Another teammate "Student 1" followed more slowly to help wherever needed "Std 1" and "Sr" descended (400-500' descent) to "X", plunge stepped down the couloir. The estimated angle of the couloir was 40 degrees. 

Photo from ridge of North Star that day.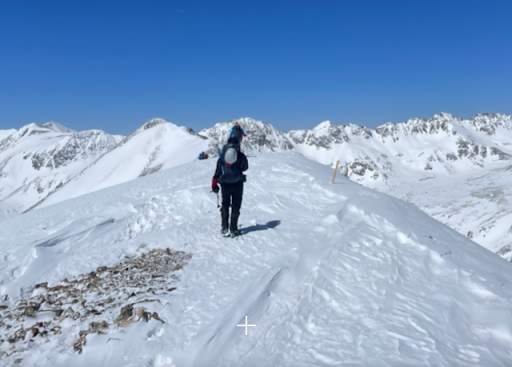 Photo from location where Std 1 fell to looking back up to ridge.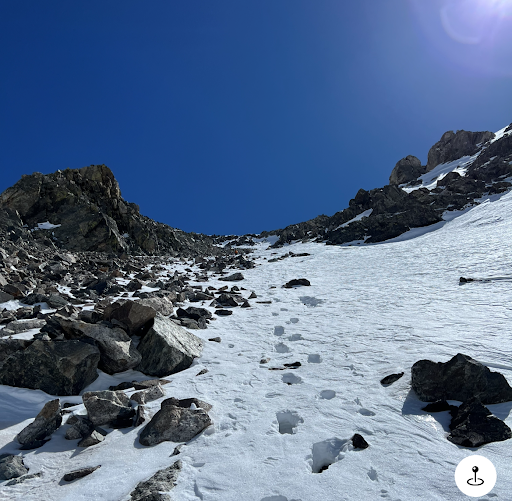 When I was within voice, we started communicating what the main injuries were. "Std 1" reported injury to his knee and possible dislocation. I performed a preliminary assessment according to WFR training. Ruled out any immediate life-threatening injury but determined patient would need some extraction, radioed team mates to make SAR call while continuing assessment. I completed an initial assessment and blood sweep and determined there were no other injuries. The cheif complaint was a dislocated left patella. I gently reset the bone and exposed injured area by cutting away clothing. discovered large wound below knee, but with minimal bleeding. cleaned and dressed the wound. Administered 400mg ibuprofen I asked what happened when he fell and he said he didn't remember. The path between him from where he started and ended up included a 10-20' cliff, and then a snow field.
Performing patient assesment and treating injuries.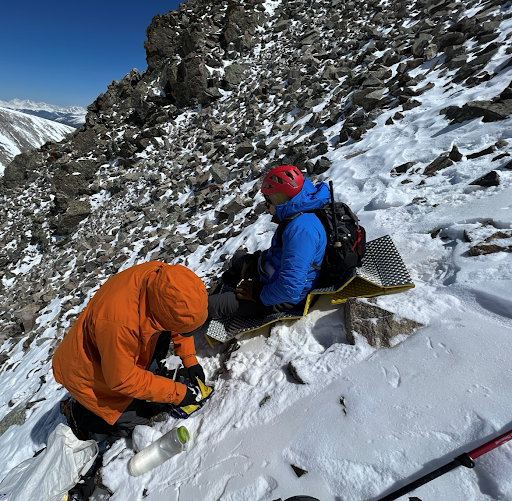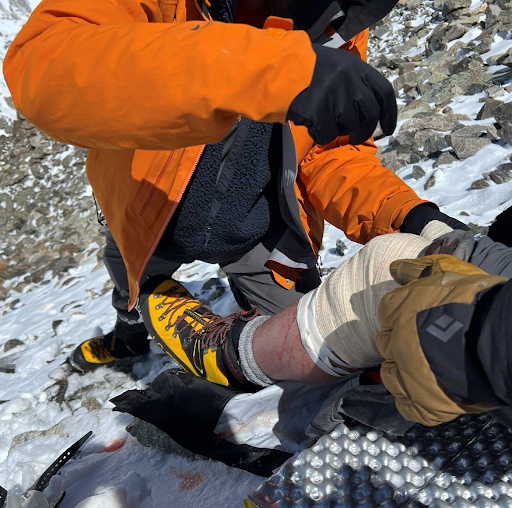 During this, information was being relayed to SAR with InReach and cell phone. They sent a drone to observe.
It was apparent that assistance was needed with evacuation. "Std 1" was determined to get out and not airlifted. The assessment showed dislocated kneecap. I relieved the dislocated knee cap. It was dislocated on left leg and patella was dislocated to the exterior. "Sr" opened up "X's" pants and revealed a horizontal cut below the kneecap. Irrigated, dininfected and cleaned the wound. Covered up the leg as best as possible with ace bandage.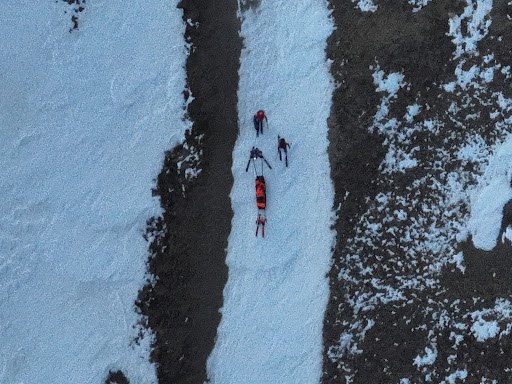 The next issue was transporting "X" back to the trailhead. Our options were to descend (north) to Blue Lake or ascend (south) back up to ridge. "Sr" asked "Std 1" to descend to see what the terrain was like. "Std 1" descended and signaled that descending wasn't an option due to cliffy terrain and deteriorating snow. "Std 1" communicated that he felt strong enough to ascent backup to ridge. At the top we were out of the couloir. Took a break, nutrition, hydration. The rest of the group had descended. Once I was on the ridge I was able to communicate with the group, who informed me that Search and Rescue was on the way. Once we determined that we were ready, we began to slowly navigate our way back down. A bit below the ridge, there was an old mine, "TL" and "Std 2" met us there. The five of us walked down. "Std 3" (guest on the trip) communicated that SAR was sending up a sled and skiers. I single SAR member reached us and directed us towards another three SAR members with skis and sled. We reached the full SAR team about 6hrs after the fall (approx 7:30pm).
Determined that the best path of descent was down a slope that required travel 1 at a time due to avy risk. The group split with some travelling a different more direct path to avoid the slope. 
"Std 1" reached the trailhead at 8-8:30pm. Patient and SAR members came in around 9:00-9:30pm. 
SAR team recommended calling FS ahead of time with group size to discuss hazards. "Std 1" visited the doctor following the incident. They lost their phone during the incident and their car was retrieved from the trailhead following the incident.