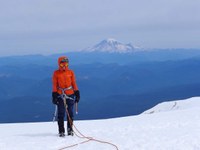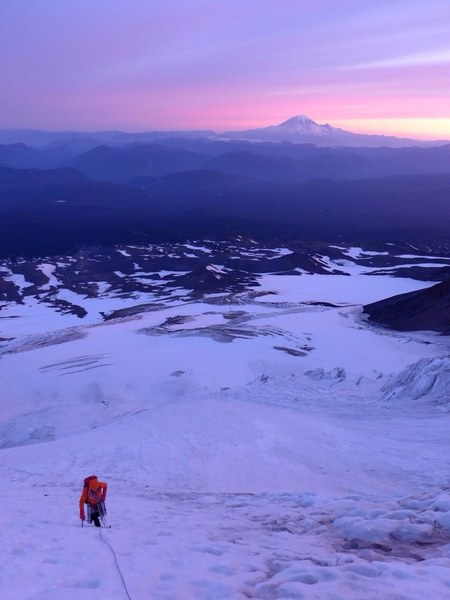 Why I like to climb in the alpine:
I too often live in my head and overanalyze situations when it comes to work or other aspects of my life. It can be so easy to get caught up in day-to-day planning and live in the weeds of trivial tasks but these are never the memories that stick with me long-term. Climbing is an activity that forces me to slow down, breathe in the fresh alpine air, and truly be present and focused on that moment in time. It gives me an opportunity to zoom out and focus on the bigger picture in a way I don't experience during the workweek. I have to think more critically and creatively about how to navigate challenges, which makes the experience all the more rewarding in the end. Not only have some of my closest friends come from the climbing communities I've joined, but some of the most empowering and lasting moments in my life have been defined by these adventures and the intentional reflection they require.
One of my favorite alpine/couloir climbs to date and why:
In July 2019, I summited the North Ridge of Baker with two other teammates (my husband, Justin Jacobs, and our friend, Dale Statler from HAMS) in a car-to-car push. That climb pushed me far beyond any other adventure I had completed up to that point and I had definite moments of doubt along the way. It required an incredible amount of stamina and endurance to keep moving over the course of our ~21-hour day. The patience and critical thinking necessary to navigate the crevasse field maze were unparalleled by other training climbs we'd encountered together. And I would be lying if I said I wasn't relying on every ounce of courage in my body to make it through some of the snow bridge crossings or high elevation exposure (which was further complicated by weather that rolled in toward the last part of the climb). I learned just how crucial trust and communication are with teammates, when it comes to risk management and decision making. However, I also witnessed how much I am capable of when I choose to go outside of my comfort zone.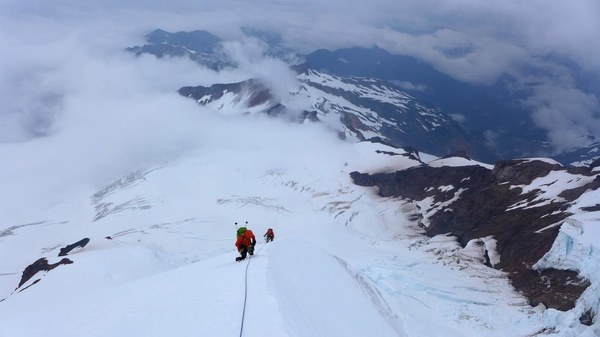 Fun Fact:
Up until my late 20s, I was all about water sports. I sailed competitively in college for four years (in California) and then worked as a whitewater raft guide part-time in my early 20s while teaching middle school in North Carolina. I also dabbled in wakeboarding, surfing, whitewater kayaking, and other water-related activities before moving to Denver in 2013 and discovering rock climbing and the Colorado Mountain Club. While I still miss the beach, I now have a soft spot in my heart for both water and mountain sports.