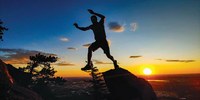 Summer morning runs are a favorite of mine. One of the enticing charms of outdoor recreation is the autonomy. I decide what I do, where I go, and how I do it each time. When I lace up my shoes and step outside, it's quiet, calm, almost chilly. This day is mine for now, this hour or two are my own. If I head out and feel an effortless energy in my stride, I may take the Spring Creek Corridor toward the Willamette River or the wooded trails through Oaks Park Wildlife Refuge. If I suddenly see a trail that I haven't been down in a while or feel a pain in my hip, I may choose to amend my route back by the railyard or cut through a neighborhood street. This freedom at every turn is like getting your first driver's license. It's cruising through town with three of your friends, windows down, one hand on the wheel, and headed nowhere. However, it occurs to me, this freedom to choose isn't available in the outdoors to all of us equally.  
Recreation is essential to our health and our overall wellness, especially as the days spent apart begin to out-number the ones together. Recreation affords us the space to exercise, to connect with our community, our city, and to reset after a particularly chaotic day. Some sports, however, are more accessible than others. Consider the transportation costs or equipment prices for a sport like skiing versus hiking. Often these barriers exclude certain members of our own communities inadvertently, through steep monetary barriers or local accessibility. While both sports offer sensational views and thrilling descents, hiking presents fewer barriers to accessibility in local trails, less pricy equipment, and free or small fees for park admission.  
Similarly, scrambling, a hybrid of rock climbing and hiking, offers more accessibility and opportunities for those who may not have the spending money or free time to travel far distances in order to enjoy outdoor recreation. Scrambling offers beginners a way to experiment with their physical prowess and discover their limits without the big investments sometimes involved in rock climbing or mountaineering. For someone looking to dabble in a new sport, acquiring essential gear can be the first hurdle to getting involved. A day on the ski slopes requires boots, poles, skis, coat, goggles, pants, gloves, helmet, and a lift ticket. This laundry list of items can quickly turn a novice away before they even get to their first run. Alternatively, the gear for scrambling is minimal, solid shoes and a snug helmet and it's game on.  
The Best Flatiron Scrambles showcases how this sport can be both inclusive and responsible in a time when community safety and health are massive priorities. Nestled near the heart of Boulder, the Flatiron trails are one of the most popular recreation sites locally, with accessible trails for all experience levels, the iconic sandstone slabs overlook Boulder and the surrounding foothills and provide sensational views. The magnificent size and sprawl of the area allows for users to spread out safely and offers a diverse range of activities from breezy day hikes to more serious bouldering or rock-climbing opportunities. Boulder's flatiron spires are located near the city, limiting the need for lengthy travel, while the various routes detailed in The Best Flatiron Scrambles provide anyone from novice to more adventurous with an array of options and difficulties. With details including techniques, aerial maps, and insider pro-tips, this pack guide offers an entry point into recreation for everyone looking to claim a portion of their day as their own.  
As we move forward in a world of limited mobility and connection, being aware of the limitations on recreation and how it impacts who can participate in these sports is crucial to fostering healthy and diverse communities. By creatively thinking about how we exercise and engage with our city and outdoor spaces, we can open the doors to create more inclusive spaces in a time when we all are eager to freely revel and connect.  
If you'd like to learn more about scrambling, get accessible information on Boulder's flatirons, or experiment with a new recreational sport, The Best Flatiron Scrambles is now available.