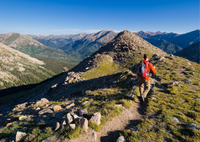 A 14er (or fourteener) is a mountain with a peak exceeding 14,000′ in elevation. When you reach the top, you're rewarded with incredibly scenery (Pikes Peak (14,115′) inspired "America the Beautiful") and bragging rights for reaching the summit.
The mountains range in difficulty from beginner to expert level and can require a little to extensive planning, depending on which one you want to complete. For help determining which 14er is right for you, consider the five different classes:
Class 1: Hiking, On Trail
Class 2: Hiking, Off Trail
Class 3: Using Hands for Balance (Face-Out Downclimb)
Class 4: Using Hands to Pull (Face-In Downclimb)
Class 5: Rock Climbing (potentially with a rope)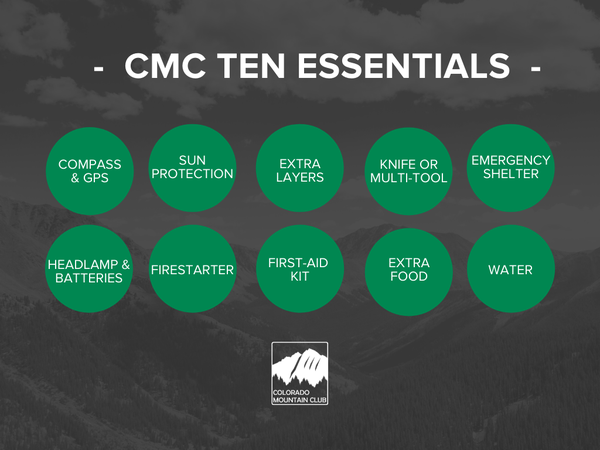 Before you begin your hike, make sure that you're fully prepared with the ten essentials, a positive attitude, and enough supplies to keep you safe if an emergency happens.
Always check the weather before you go. A bad storm can be the difference between a fun hike and a life threatening scenario. Stay hydrated to avoid altitude sickness, and take any signs or symptoms of it seriously.
As more people flock to 14ers, it's important to remember and practice Leave No Trace principles to ensure that we can all continue to enjoy these peaks for generations to come. If you bring a sign with you, make sure you take it back home with you. Leave a cleaner 14er by taking the initiative to pick up trash while you're at the trailhead, on the trail, or at the summit. Don't leave fruit cores and peels on the mountain, as they take an extremely long time to break down in the alpine environment and can create problems with wildlife. Don't feed the wildlife or pick any of the wildflowers. Stay on the trails, and be respectful of other hikers.
14ers are a great way to work on your progression. Start with Class 1, and work your way up to Class 5. If you complete at least 54 of the 14ers (all 52 named peaks over 14,000 feet with more than 300 feet of prominence, plus North Maroon Peak and El Diente Peak), you can submit your name to the Colorado Mountain Club Summit Completers program to get your name on the website and receive a certificate at the beginning of the following year.
Two CMC Press Books that will help you plan your trip are The Colorado 14ers: The Best Routes and The Colorado 14ers: Pack Guide, 4th Edition. Both are great resources. The guidebook features dozens of spectacular photos by Todd Caudle for inspiration and provides extra information and history for richness. The pack guide provides only the vital information in an easy-to-use format.
Our Youth Education Program put together a helpful 14er Trip Planning Checklist that you can use to prepare for your adventure.
During a CMC University Lunch & Learn, CMC Member Jeff Golden shared an "Introduction to 14ers" presentation packed with information and advice for beginners looking to tackle their first 14er. Watch the full presentation below.