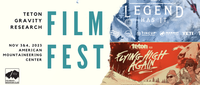 Join us for an unforgettable evening of adventure and inspiration at the CMC X TGR Film Festival, presented in collaboration with Teton Gravity Research. Don't miss this chance to experience the magic of the mountains on the big screen while supporting a great cause. See you there!
RESERVE YOUR SPOT
---
A HUGE Thanks to our event sponsors!
---
Flying High Again Trailer (2023)
Description: In a world, where the snowboard corporatocracy cares more about the next Instagram swipe, one company has decided to team up with legendary snowboard film director, Mike Hatchett, and do the impossible. This film defies all odds - to bring together a crew of passionate riders for a full-length feature film - and to bring back the annual snowboard film to remind the core snowboard community of this lost art form. Are you ready? 
Legend Has It Trailer (2023)
Ski lore is riddled with stories, sometimes of unknown origin, describing plausible but extraordinary past events. Often shared on chairlifts, the skintrack, or over a beer, these legendary tales, whether it be mythical storm cycles, heroic feats, or whispers of fantastical terrain, all contribute and shape our present experience. For 28 years Teton Gravity Research has been traveling the globe with the best athletes to the most incredible locations often based on this fabled history to uncover the experience…and sometimes creating legends of our own along the way.