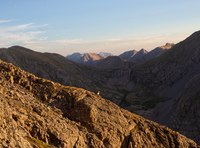 Written by Bella Biondini
Introduced by Representative Joe Cunningham and approved on a 310-to-107 vote in the House, the act will be in effect for five years. The LWCF will now receive guaranteed yearly funding without the need for Congressional approval. According to the Trust for Public Land, Colorado could receive an estimated 51% increase of LWCF funding.
Projects and areas in need of assistance include the Continental Divide National Scenic Trail, Rocky Mountain National Park and Dinosaur National Monument.
A lack of Congressional funding has also produced a maintenance backlog within National Parks and suffering recreational infrastructure. 
Just last year, the National Park Service welcomed more than 327 million visitors who generated an economic impact of more than $41 billion and supported more than 340,000 jobs, according to a National Park Service press release. Park visitation in 2019 surpassed 2018 by more than 9 million recreational visits, a 2.9% increase. 
Maintaining heavily trafficked roads, bridges, visitor centers, historic buildings and monuments along with trail and campgrounds is an enormous undertaking. Growing visitation is eroding both the park system and public lands as resources and funding continue to become more limited. 
The National Park Service has an integrated system to track the maintenance needs of park facilities, including delayed projects and repairs that are collectively called deferred maintenance or maintenance backlogs, a release stated.
The act was created in an effort to clear these backlogs. 
Colorado Mountain Club Conservation Director Julie Mach said the CMC will be eligible for some of these funds. The club will aim the funding at their stewardship crew and delayed maintenance projects. 
Mach said she expects most of the dollars to go toward improving the overall quality of existing trails as well as to addressing erosion issues and repairing structures, bridges and signage. 
Outside of the CMC, along with maintenance and the reauthorization of the LWCF, a large majority of the funding allocated to Colorado will be used for private land acquisition.  
Throughout the mountains, mining claims often intersperse with public lands, especially in the San Juans, Mach said. Most people think all public land is owned by the Forest Service or the Bureau of Land Management, but there's actually small private parcels in between, creating a patchwork of both private and public lands. 
"There are instances where someone owns a mining claim that their grandfather staked 105 years ago and it's been in their family ever since,"  Mach said. "Or maybe they don't even know they own it." 
The Great American Outdoors Act will allow the NPS and BLM to begin purchasing these parcels and transfer them into public land. 
After the economic wreckage of coronavirus Mach said she hopes this bill is a step in the right direction for outdoor stewardship programs around the country, although the National Park Service faces much larger structural issues. 
"This bill is meant to be an economic driver, by creating these programs we are creating are creating jobs," Mach said. "I think we will see a short term effect over the next few years as the funding is distributed. But from a long term perspective this doesn't solve the issue of agencies being chronically underfunded and it's not usually fixed by a bill like this."