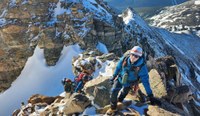 The following information was shared by CMC member Martha Mustard. She prepared if for Rocky Mountain On Top of the Hill Gang Members but it is relevant to Denver Area residents and mountaineers. Thanks Martha!
SUGGESTION FOR HANDLING LONG WAIT LISTS
This suggestion may somewhat alleviate the churn if you have a wait list of more than one. When you send out your e-mail to the roster, you can e-mail the wait list separately asking them to consider whether they are still available on short notice and ask them to cancel if the answer is no.  (You may have to tell them they have to cancel with you if registration is closed.)  You may want to include your e-mail info sent to the roster so they have it already when/if they move to the roster.  Thanks to Melanie for the suggestion.
LOCATIONS REQUIRING PASSES
The following locations require a federal pass for each car, either an annual pass, a lifetime pass, or a single- or multiple-day use pass: RMNP, Brainard Lake area of IPW, Mt Evans Road (opening May 26, weather permitting).
State Parks all require a pass for each car. This can be a one-day pass or the annual pass for all state parks.
LOCATIONS REQUIRING PERMITS
Indian Peaks Wilderness (IPW) requires a permit for groups of eight to twelve. They can be obtained from recreation.gov for a fee of $5 per permit and an additional reservation fee of $6.  Leaders can request reimbursement for costs associated with permits for RMOTHG hikes by filling out the Denver Group Check Request for using "hiking – permits" for the expense line item charged and attaching documentation of your expense.  You can get the form from Bob Barday, our Treasurer, or Martha Mustard.
Lost Creek and Mt Evans Wilderness Area both require free permits self-issued at the trailhead.
LOCATIONS REQUIRING TIMED-ENTRY TICKETS in addition to a pass or permit
Brainard Lake Picnic Site/Trailhead, Long Lake Trailhead, Mitchell Lake Trailhead, and Niwot Picnic Site/Trailhead all require a timed entry tickets from June 1 through October 15. The cost is $2 for those who already have passes.  NOTE:  Long Lake and Mitchell Lake, and Niwot parking areas are not open until July 1.  Obtain tickets from recreation.gov.  (Brainard Gateway Trailhead does not require parking reservations.)
Mt Evans Road (opening May 26, weather permitting) requires a $2 timed-entry ticket available at recreation.gov.
RMNP requires timed-entry permits from May 26 through October 22 available at recreation.gov for $2.
Time Vehicle Reservations will be required to enter Eldorado Canyon State Park on Saturdays, Sundays, and summer holidays from May 15 through September 15, 2023 unless using the Eldo shuttle bus. See https://cpw.state.co.us/vehiclereservations. 
STATE WILDLIFE AREAS
FREE DAYS
Free days allow patrons to enter areas that normally require a pass, meaning that the area might be more crowded than usual. Avoid these days:

Mt Evans Road – June 10 and June 19
All Colorado State Parks – August 7
GROUP SIZE LIMITS
Group size limits for Wilderness Areas vary. Commonly used Wilderness Areas:

Byers Peak – 12
Cache la Poudre – 12
Comanche Peak – 12
Indian Peaks – 12
James Peak – 12
Neota – 12
Rawah – 12
Vasquez Peak - 12
Eagles Nest – 15
Lost Creek - 15
Mt Evans – 15
Never Summer – 15
Ptarmigan - 15

Jefferson County Open Space (JCOS) has a strict limit of 14 hikers per group. (NOTE limit is different for bikers – limited to eight). 
Roxborough State Park requires that all parties of ten or more contact the park prior to the trip. Parties of nine or less do not require this advance notice. 
The limit for hikers is 14 hikers.
PARKING
Boulder Open Space and Mountain Parks (BOSMP) trailhead parking lots require a parking fee for non-Boulder County cars. Daily fees are $5 and annual parking permits are also available:  https://bouldercolorado.gov/services/osmp-parking-permits-and-fees.  (This is the City of Boulder, not the County.)
JCOS uses the LotSpot app to tell you if the parking lots at trailhead are full: https://www.jeffco.us/4091/Parking.  There is also info on supplemental parking areas available at a given park.  Have a plan B if you are not starting early!
Parking along the road in front of the Fort has been restricted; there are now "no parking signs" from the southernmost entrance to the Fort northward. The only parking available is now from the southernmost entrance to the Fort southward and it is minimal.  The new parking lot is posted for Fort customers only.  Parking is available at the Morrison Park 'n Ride at the NE intersection of West Morrison Road and South Rooney Road near C-470.
FALL RIVER ENTRANCE TO ROCKY MOUNTAIN NATIONAL PARK
Fall River Entrance to RMNP is under construction. One lane is open to enter. Visitors are encouraged to avoid the Fall River Entrance and use the Beaver Meadows Entrance via U.S. Hwy 36. Expect wait times at both major east side entrances to RMNP.
TRAIL CONDITIONS AND NOTIFICATON LISTS
BOSMP (City of Boulder) – current status of trail closures:  https://bouldercolorado.gov/services/osmp-closures#section-6391.  There is also a button there to sign up for future closures.
Boulder County Open Space trail closures https://www.bouldercounty.org/open-space/parks-and-trails/trail-closures/. There is also a button there to sign up for notifications.
JCOS - current status of trail closures: https://www.jeffco.us/1531/Alerts-Closures.  There is also a button there to sign up for notifications.
New multi-agency, Boulder Area Trails App: https://bouldercolorado.gov/services/trails-app
WILDFIRE AWARENESS
With the increased frequency and speed of wildfires in our mountains and foothills, we need to have an increased awareness of where to search for info about them, especially their current status and also what to do. Carrying an N95 mask may be helpful.  Here are some references.
BACKCOUNTRY INCIDENT MANAGEMENT & FIRST AID RESOURCES AND PROCEDURES
There are lots of useful links provided here: https://www.cmc.org/groups-sections/front-range-groups/denver/course-templates/backcountry-incident-management-school/course-materials/backcountry-incident-management-first-aid-resources-and-procedures
SPAM
Please check your spam file regularly. Sometimes mail inexplicably gets delivered to the spam folder instead of the in box, especially mass mailings.