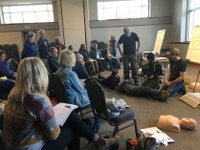 We are excited to be offering Wilderness First Responder (WFR) and Wilderness First Responder Recertification (WFR-R) with Backcountry Pulse this fall!
The WFR course is best for individuals who are outdoor instructors and guides, backcountry rangers, or wilderness therapy leaders volunteering or working multi-day to multi-week wilderness trips where medical/extrication equipment is limited, communication methods are spotty, weather and terrain are varied, and medical/rescue support is delayed.
WFR courses focus on:
Rescuer, patient, bystander wellbeing and protection
Risk mitigation for the environment and activity
Ongoing management for environmental threats
Spinal stabilization and patient packaging
Patient physical exam and patient history
Recognition of life threats and stabilization of emergencies
Signs/symptoms of medical, traumatic, environmental illnesses and injuries
Initiation of appropriate treatments based on assessment
Patient monitoring and vital sign patterns
Clear/concise verbal report and written documentation
Planning, appropriate evacuation methods and patient handoffs
WFR (80 hr training) dates are November 30 – December 12. The course will begin with an evening online session November 30 and take place in-person on Saturday and Sunday, Dec. 4–5 and 11–12 with weekday and online offerings between the weekends to complete the 80 hour full WFR.
WFR-R (24 hr training) dates are October 16–17 for two field-days of the 3-day hybrid WFR Recertification. Additional self-paced online portion required prior to the class.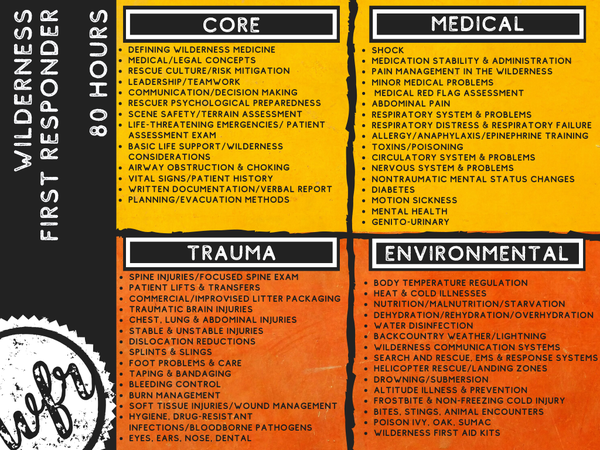 Visit cmc.org/Calendar to see all available WFR, WFR-R, and WFA classes that we have available.