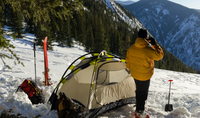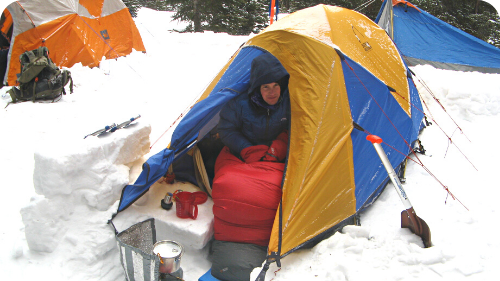 The Colorado Mountain Club's Winter Camping School (WCS) is a non-survival school perfect for those who want to enjoy the winter, snow, and moonlight in comfort. WCS concentrates on the fundamental understanding, equipment, and techniques to keep warm in cold environment on an overnight stay. It covers topics as dressing, traveling, setting up a campsite, cooking, and sleeping comfortably in the winter among others. 
WCS is open for every CMC member, regardless of group membership and classification. This school is recommended not only for backpackers, but everyone who intends to spend extended time in the backcountry in the winter, like snowshoers or skiers.
The 2022 session of Winter Camping School has three lecture nights and three Q&A sessions. Lectures are in-person or online determined later depending on the situation with Covid-19 pandemic and Q&A sessions are zoom meetings online.
The school will start on February 1st, Tuesday, at 6:20 PM. Registration will be closed on January 31st midnight.
Attendance — either in-person or online as the activity will be conducted — of all lectures is mandatory. Dates for lectures will be February 1st, February 8th and February 22nd — all starting at 6:20 PM sharp and ending around 9:10 PM.
Optional online Q&A sessions will be held on February 15th, March 1st, and March 8th.
There will be online quizzes required to progress in the school.
Cost of the school is $100, which includes all in-person or online lectures, Q&A sessions, presentations, videos, handouts, and access to online manuals. There is an extra fee of $10 for non-Denver Group members. Registration is open now.
In order to graduate from WCS, students must complete three qualified trips listed in the CMC Activity Schedule.  These are regular CMC trips that have priority for Winter Camping School participants. One day trip is on Saturday, February 19th.  Two overnight trips are on March 5-6 and March 19-20. Any cancelled trip will be re-scheduled on March 26-27, however this date is NOT a make-up for missed trips.
All trips are snowshoe trips — skis are not allowed. Equipment requirements and more details about these trips will be discussed during lectures.
For more information please go to https://cmcdenver.org and select Winter Camping School on the left on the screen or from Schools tab or go directly to: https://cmcdenver.org/schools-2/wintercampingschool.