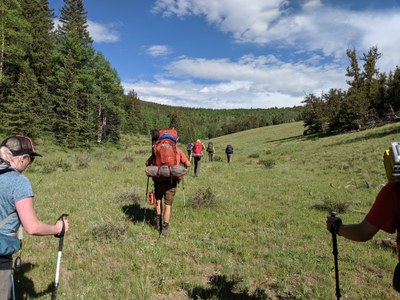 Backpacking & Hiking Course
Backpacking School
Are you new to Colorado and want to meet "outdoorsy" people and see what the summertime Colorado mountains have to offer? Are you a complete novice at backpacking but are inspired by how refreshed your friends are after spending a weekend in the mountains? Are you looking for a skills refresher and to see what gear and techniques experienced backpackers use? Does the Colorado Trail beckon? The Rio Grande Pyramid is on your "Must Climb!" list? If only you felt more comfortable with your backpacking skills.
Tue, Jun 6, 2023 - Fri, Sep 29, 2023
Committee: Denver
Members: $150.00
Availability: FULL, 5 on waitlist (38 capacity)
Registration for the Backpacking School requires the completion of the Wilderness Trekking School Badge (Or existing WTS / DHS student) or WTS Waiver (found under the Course Materials).
Note: You can register to be put on the wait list for this school once it is full. If an opening happens you will be contacted in the order you are in the wait list to sign up.
Any questions about this please contact cmcbackpacker@gmail.com
Buying Gear for the school?
Remember, CMC Members have access to Pro Deals through Expert Voice, go to this link for more info! https://www.cmc.org/members-volunteers/member-benefits/my-benefits 
Overview:
The Backpacking School is broken up into smaller groups to order to give the attention and detail needed for these topics. These groups are between 7-10 students in size with 2-4 Instructors. To organize these groups before the first class a Student Survey will be sent out before the first class.
Registration is currently limited to 38 students based on the number of groups we have leader/instructors for.  There will be a wait list that forms when the school is at capacity in the event we add another group before the start of the school. 
Schedule for the 2023 Class is:
Lectures
Class 1 – Tuesday, June 6 – In-Person at the AMC in Golden
Class 2 – Tuesday, June 13 – Virtual/In-Person based on group preferences
Class 3 – Tuesday, June 20 – Virtual/In-Person based on group preferences
       (All classes begin promptly at 6:30 PM and end by 9:30 PM or earlier.)
Trips
Field Day #1 – Saturday, June 17 – All School – At AMC in Golden
Field Day #2 – Overnight – June 24–25
Field Day #3 – Overnight – July 8–9
Field Day #4 – 3-day / 2-nights – Dates to be determined by each group.
The Basic Backpacking School topics include:
Gear and clothing
Camp craft and skills
Cooking, nutrition and stoves
Organizing your: trip, pack, tent and camp
Navigation
Basic first aid
Staying warm
Leave No Trace principles
Packing and packing lighter
Avoiding problems with animals and weather
The CMC Backpacking instructors are passionate and experienced hikers who love the outdoors, enjoy sharing their knowledge, and deeply know their gear and skills.


Course Requirements
This course has no scheduled activities.
Required Equipment
Ten Essentials
Backpack
Tent
Stove
Sleeping Bag / Pad
Sturdy hiking boots
An inquisitive and adventurous mindset!