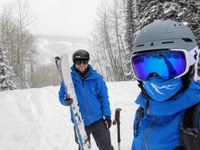 By CMC Snow Ranger Shane Tulp
One of the greatest things about being able to patrol the backcountry on a daily basis is the vast array of different user types you encounter who are all partaking in enjoying the wintery outdoors. February for the CMC Snow Rangers Matt and Shane was filled with days of sunshine, low avalanche danger and snow dances that have finally paid off at the end of the month. The Snow Rangers have been busy stewarding Red Mountain Pass and the Grand Mesa, which have both seen consistent streams of happy visitors. 
First we want to introduce Dave who was camped out on the Grand Mesa for the first half of February. A self declared poet and ephemeral snow artist, Dave spent his days wandering around on his snowmobile with a large amount of gear that would rival the most prepared outdoorsman, just in case anyone needed a helping hand. Our conversations with Dave were filled with hours of stories that rivaled the fantastical nature of the movie Big Fish. As he counted down his 14 days of permitted camping, Dave was a welcome addition to the Grand Mesa for his short stay.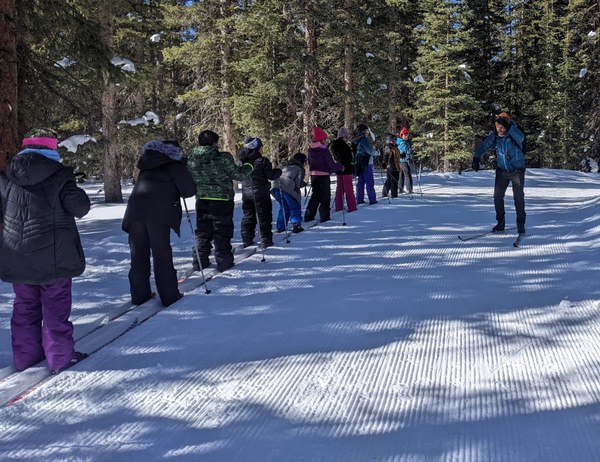 This month the Snow Rangers also spent some of their time on the Grand Mesa helping a local non-profit, The Nature Connection, in leading educational field trips with local elementary school kids from the Western Slope. The kids learn about basic snow science and local winter wildlife while exploring the Mesa on cross country skis, many for the first time. Watching a fourth grader who has never strapped skis to their feet try to navigate an entirely new way to travel while having a blast is hilariously fun for everyone! After a day with the kids, we always hope to have instilled an appreciation for nature that will grow and develop with them as they grow older, and allow them to grow up as thoughtful stewards of the land.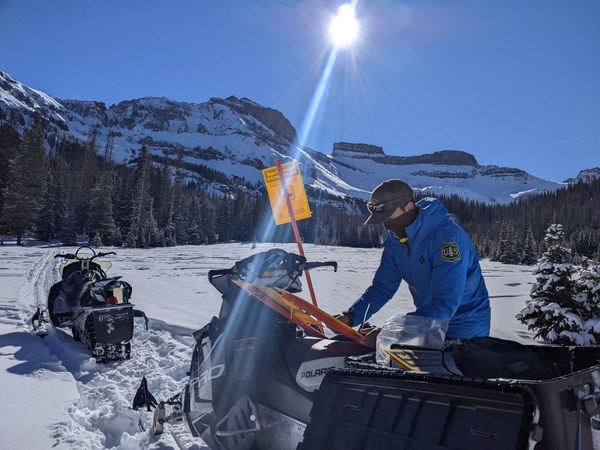 Being a snow ranger also comes with the day to day duties. This month we installed wilderness boundary signs for snowmobilers in the Cimarrons, restocked the Jackson Guard station with supplies, Compiled GPS data for winter signage, and had a great time skiing in the backcountry talking to all the amazing winter recreationalists.
Keep doing your snow dances. 🤞❄️
– Shane & Matt