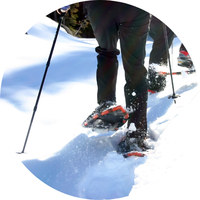 This school offers single-day field classes free to CMC members only, every winter January through March. No tuition, no budgeting, no permits, no classroom time. Curriculum well-tested since 2018. Instructors also needed.
Primary School Director duties are scheduling, teaching, and posting session dates through CMC publicity venues, making use of prior years' examples and with staff assistance. Denver Member Initiative Committee will train and assist you through the first year as desired.
Must be a fully qualified Denver Group trip leader in good standing by January 1, 2024, with Avalanche Terrain Avoidance (or AIARE) requirement satisfied.
Fun to do with a co-director friend. New Director(s) ideally should be in place by November 1, 2023, to organize for upcoming season classes.
For further Details:
1.
2. 
3. Denver Group owns MSR snowshoe kits we loan to students for the day. We share the kits with Day Hiker School and Avalanche Terrain Avoidance.
4. How many sessions are offered per season depends on member demand, snow availability, and instructor supply. At least two weekends per month seems a minimum time. Weekday classes have not filled well except for dedicated RMOTHG sessions. Here are past season numbers:
For questions or expression of interest, contact Robbie or Michael at cmcbeginnerss@gmail.com.