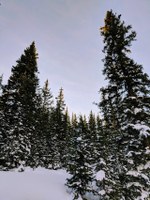 It's the end of October and the first flakes have accumulated in the mountains. It's the season we look to the skies for changing temperatures and precipitation and start thinking about our winter adventures to come.
Whether you are looking forward to a fast ride down the hills, a cold night out, an icy climb, a smooth glide across country, on groomed trails or in deep powder, CMC has some dedicated volunteers who know how to teach it and some new friends to bring along for the ride!
Join CMC in our winter adventures this year from beginner snowshoe trips, and intro to cross-country skiing and splitboarding, to ski mountaineering, winter camping, glacier travel or a winter hike. Learn something new and come play in the snow! Get online to register and learn more about how you can get outside with CMC this season.
Winter course registration starts November 1st, 2022 for all 2022-2023 winter opportunities. Read on for some highlights of all the fun you can have as the winter unfolds with Colorado Mountain Club:
Ski Movie - Feel Real from Blank Collective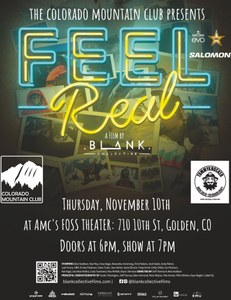 We'll kick off the season with a great ski movie party showing Feel Real from Blank Collective. Bust out your best retro ski gear and come enjoy a movie on November 10th. Doors open at the AMC at 6 p.m. and the movie starts at 7 p.m.
There will be a drawing for prizes, giveaways from gogglesoc and CMC, beer for sale (21+) from Tommy Knocker, and don't miss the shotski - get a free shotski shot if you come dressed up in retro ski attire for the event! You'll want at least 3 friends to join in the fun so gather a crew, dress to impress, and come to Golden for a ski season movie event to remember!
Avalanche Education
Avalanche education should be on everyone's mind as the snowpack builds. CMC has you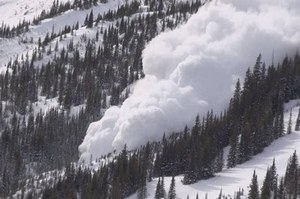 covered from Avalanche Terrain Avoidance to AIARE 1, AIARE 2, and Companion Rescue.
Get the education, know your gear, find travel partners, and manage your risk while you enjoy the Colorado snow this season! CMC policy requires leaders to have avalanche education and show continuing education every 5 years. Read our avalanche education leadership policy here. 
Winter Camping School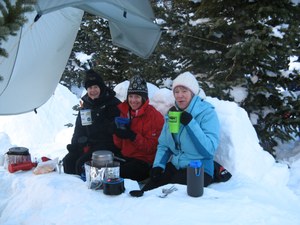 The Winter Camping School is always a popular course for those who want to enjoy the winter, now, and moonlight in comfort. This is a non-survival school that concentrates on the fundamental understanding, equipment, and techniques to keep warm in cold environments on an overnight stay.  It covers topics such as dressing, traveling, setting up a campsite, cooking, and sleeping comfortably in the winter among others. 
Intro to Backcountry Ski and Splitboard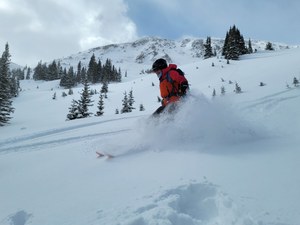 Are you ready to take the next step...into untracked powder? We want to help our Colorado community learn the skills necessary to get started on their backcountry ski or snowboard journey! This course is designed for those who are good on their skis or board, but "new to the backcountry" and plan to travel on AT skis, splitboards, or telemark skis. Learn about the gear, tips, tricks, and find friends to ski with in CMC's Intro to BC Ski and Splitboard School.
Backcountry Nordic Ski School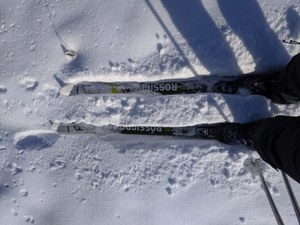 Prefer the kick and glide to the hike and turn? Learn to cross-country ski and get prepared for backcountry trails using classic Nordic-style technique. (No AT or Tele gear allowed in this school.) Backcountry Nordic Ski School accommodates students from never-evers to folks who have skied for years. Classes are often less than ten students, with at least two instructors. Start at on groomed trails and progress to backcountry treks with your new Nordic style!
Telemark Ski School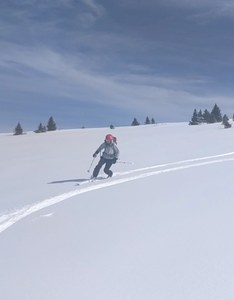 The Denver Group 2023 Telemark Ski School will celebrate its 40th year of providing quality volunteer instruction to hundreds of students hailing from all over Colorado!  Free your heels this winter and make those long, sweeping, elegant tele turns under the direction of our fantastic volunteers. Join the school at Loveland Ski Area in one of three weekend sessions in January, February, or March.
Beginner SnowShoe School
If you're looking for a mellow way to stay fit and enjoy your favorite trails all winter long,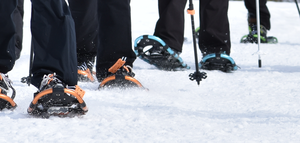 give snowshoeing a try. Beginner Snowshoe School will teach you how to select snowshoes, loan a pair to try during the course, and get you all the info you need to enjoy this popular winter activity. It's almost as easy as walking!
Youth Camps and Family Programs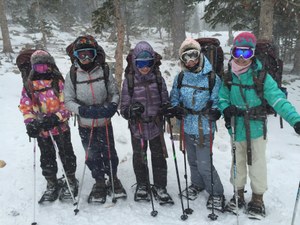 Want to get out with your family? Or get the kids out of the house over winter break? CMC Youth Programs has a full schedule of day camps over the winter break as well as a family climb night on November 29th. Day camps are for 5-12 year olds located at the AMC in Golden, CO. There are also two exciting trips for teens coming up in early 2023: ice climbing and an overnight hut trip! 
Technical Climbing and Alpinism
CMC also offers a wide array of technical courses. The winter season is stacked with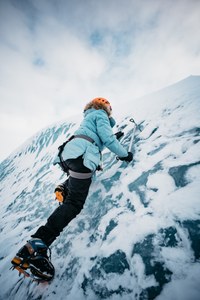 ice climbing, glacier travel, basic mountaineering, advanced mountaineering, and alpine climbing school. From Boulder to Colordado Springs, there are many ways to learn more about traveling in high elevation in the winter. Learn from experienced volunteers, meet folks learning the same skills, find climbing partners, and hone your skills to take you further!
CMC also offers Ski Mountaineering School which will be posting courses for the season shortly. Check back for more on those schools this winter.
However you choose to travel, make sure you get all the best info and training from our CMC volunteers to get out and enjoy the winter!