Winter Camping School
The Winter Camping School concentrates on the fundamental understanding, equipment and techniques to keep warm in cold environment on an overnight stay. Skills learned in this school are applicable for anyone who plans to spend time in the winter wilderness including hikers, snowshoers, campers, climbers and skiers. It does not teach high altitude glaciated techniques, but it provides solid foundation that can be expanded to camping over timberline.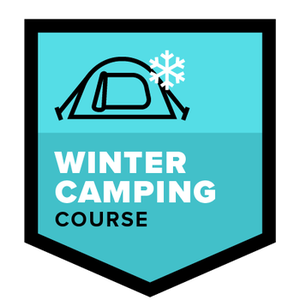 Winter Camping School is for those who want to enjoy the winter, snow and moonlight in comfort. It is open to any member of the CMC regardless of group membership or classification. There are no prerequisites but prior completion of the CMC Wilderness Trekking School and/or some winter hiking experience are recommended.
---
Register here for the Jan 31-Feb 21 class:
Topics covered
Mechanisms of heat loss and staying warm
How cold affects the body, cold weather ailments
Dressing for the cold and snow
Winter camping gear, stove
Nutrition and cooking tips and techniques
Techniques for sleeping warm
Extending the temperature range of the equipment you may already have
Site selection and campsite organization
Tent organization
Winter travel and using sleds
In this school, students have the opportunity to learn winter camping techniques with personal attention and practice such skills in a non-competitive, non-confrontational setting.  The Winter Camping School is a great place to make new friends and open up a new season of activity.
To reduce the effect of 3 C's (closed spaces, crowded places and close contact) the School currently is planned with a mixture of in-person and online activities. There will be in-person and online lectures, Q and A online sessions and instructional videos as well as other materials posted online.
In order to graduate, students have to attend all lectures (QandA sessions are optional), watching all video modules and submit all quizzes with satisfactory grading.
Students also has to participate in three qualified CMC trips: one one-day snowshoe trip to learn basic techniques and two overnight field trips.  All trips will be on snowshoes, no skis allowed. 
The Winter Camping School is open for every CMC member regardless of group membership.  This school is recommended not only for backpackers, but everyone who intends to spend extended time in the backcountry in the winter, like snowshoers or skiers.  This is an excellent course for grandparents and pole-traverse aspirants.
Winter Camping 2022/23 Season
The 2023 session of Winter Camping School has three lecture nights and three optional Q&A sessions. The first lecture night is in-person in the CMC Clubhouse, other lectures and Q&A sessions are online via zoom meetings.
The school will start on January 31st, Tuesday, at 6:20 PM.
Registration will be closed on January 30th midnight.
Attendance - either in-person or online as the activity will be conducted - of all lectures is mandatory.
Dates for lectures will be:
January 31st
February 7th
February 21st
All lectures start at 6:20 PM sharp and end around 9:10 PM. Unless there are dramatic changes in Covid-safety, the first lecture night will be strictly in-person.
Optional QandA sessions - all online:
February 15th
February 28th 
March 7th  also starting at 6:20 PM.
There will be online quizzes required to progress in the school.
Cost of the school is $105 for Denver Group members and $115 for CMC members from other groups. This fee includes all in-person and online lectures, QA sessions, presentations, videos, handouts and access to online manuals.  Registration for the school will open in early-mid November.
Graduation
In order to graduate from the Winter Camping School, students must complete three Winter Camping School qualified trips listed later in the CMC Activity Schedule.  These are regular CMC trips that have priority for Winter Camping School participants.  One required daytrip will be on Saturday, February 11th.  Another day trip is planned on Saturday, February 18th serving as a backup for February 11 (required if needed) or for snow structure building practice (optional).
Two required overnight trips will be on March 4-5 and March 18-19.  Any officially cancelled trip will be re-scheduled on April 1-2 (no joke), however this date is NOT a make-up for missed trips.
All trips are snowshoe trips, skis are not allowed.  Equipment requirements and more details about these trips will be discussed during lectures.
More questions? Find our FAQ page here.