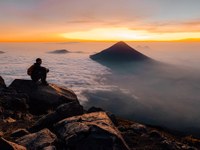 Journey through this beautiful South American country for a tour with adventure, culture, and amazing experiences. Trip leader, Carol Kotchek, has travelled to Guatemala several times to curate the perfect trip to explore this wonderful country. Read about the trip itinerary below and be sure to sign up today!
Day 1: Guatemala City to Antigua
After arrival at Guatemala City Airport The rest of the day is ours to spend as we please. We can go out as a group or individuals.
Day 2: Antigua

After breakfast, head out for a historical walking tour of Antigua. We will stroll through the main square, the Plaza Mayor, home to the beautiful Royal Palace of the Captains General, the Cathedral San Jose, and other historic buildings.
Day 3: Antigua - Hike the Pacaya Volcano

Located in Pacaya national park it is a storybook volcano with a continuous plume of smoke drifting from its summit. There is a massive dried lava field forming in the valley at the base of the caldera. We will hike through the rugged dried lava fields recently reformed by a massive eruption in 2010. 
Day 4: Antigua - Mountain Biking

Head out for a mountain biking exploration of the Antigua area. The group will be divided in two depending on ability and comfort level. 
Day 5: Antigua to Acatenango Camp

Travel to the village of La Soledad where we will begin the hike up Acatenango Volcano. 
Day 6: Acatenango Camp to Antigua

Depending on weather conditions, rise early and enjoy the sunrise over the volcano peaks. Then we will hike approximately  1 hour up a steep gravel trail through a pine forest, which leads to the windy summit of Acatenango Peak at 13043 ft. 
Day 7: Antigua to Lake Atitlan

Travel to the village of Panajachel where we will board a boat and head out onto the lake for a cultural tour. We will visit quaint Mayan villages that surround the lake and meet local residents that will teach us about their traditional way of life such as weaving at a women's co-op and a shrine to the infamous Maya saint, Maximon. 
Day 8: Lake Atitlan

After a healthy breakfast we will meet our guide and head down to the lake for a kayaking and hiking tour. 
Day 9: Lake Atitlan to Antigua 

In the morning we will make our way back to Antigua. After a quick lunch break we will head to the northwestern part of the city for a visit to the Finca Azotea coffee farm. The farm has a maze of trails through shaded trees. We should be able to see many native birds. After walking we will have the opportunity to sample different varieties of coffee. 
Day 10: Antigua to Guatemala City 

In the morning, enjoy one last cup of Guatemalan coffee and say goodbye to Antigua.  Transportation to the airport for your flight home.