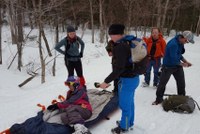 Too often in our mountains people get into dangerous situations and are not prepared. While hiking up the Pikes Peak Barr Trail to complete the A-Frame restoration, members of the Colorado Mountain Club encountered a hiker physically spent, dressed in shorts, a t-shirt, and carrying a light rain jacket. A brief storm had moved in bringing colder temperatures, the hiker was now wet and out of food and water. Luckily, CMC members had Wilderness First Aid training and were able to provide warm clothing, water, nourishment, encouragement, and aid as they hiked with this person the rest of the way to the summit where EMTs were able to take over. Our Wilderness First Aid trained members were able to turn this predicament into a successful outcome. 
The USFS Pikes Peak Partnership and Volunteer Coordinator who was present for the restoration project and hiker intervention sent a follow up letter of appreciation, "I was very grateful to be in the company of folks prepared for these types of situations, and fortunately we had a positive resolution to a stressful afternoon."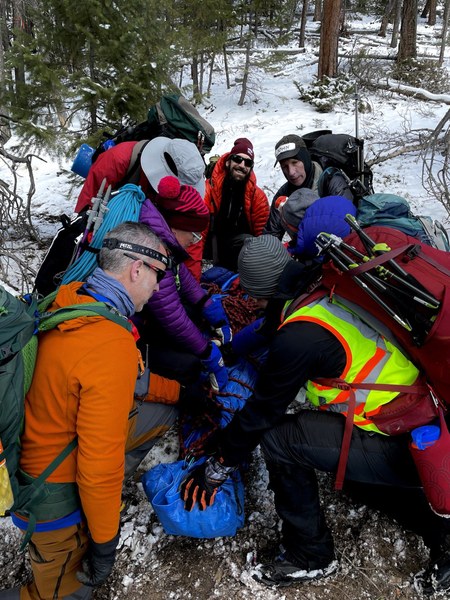 Photo of Wilderness First Aid students responding to a practice scenario in the field.
Wilderness First Aid (WFA) is a type of medical training that teaches how to assess and treat injuries or illnesses as well as prevent incidents while recreating in the backcountry. WFA skills are designed to prepare you to respond to an emergency when there is reduced availability of definitive medical resources. The CMC requires all volunteer leaders to be certified in Wilderness First Aid so at least one person per trip is able to lead an incident command team, adapt to changing circumstances, make responsible decisions, and communicate effectively between the patient, bystanders, and medical responders. For these reasons, a WFA certification is beneficial for all outdoor recreationalists. Wilderness First Aid training empowers you to be self-sufficient on the trail by equipping you to be prepared and increasing your confidence to step in as a leader in case of an emergency. 
"Before completing this course, I was too hesitant to apply my knowledge in an emergency situation. I now feel empowered to take the lead if ever needed." -CMC WFA student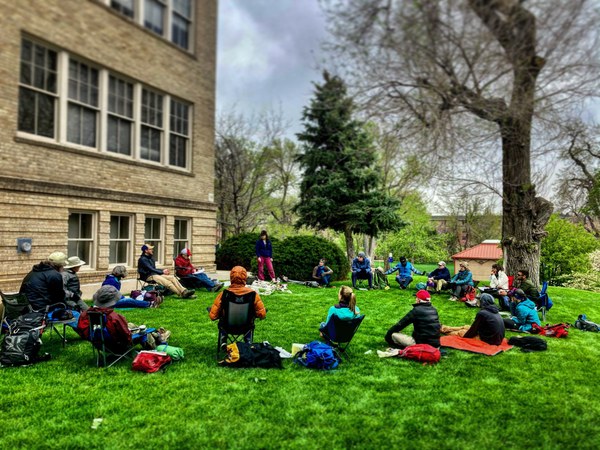 Photo of Wilderness First Aid students gathered in a circle to learn from the instructor. 
The Colorado Mountain Club Wilderness First Aid course is a 16-hour training that covers environmental, medical, and traumatic injuries with a focus on inclusive care as well as rescuer, patient, and bystander mental health. You will learn how to perform a basic physical exam, identify abnormalities and life-threatening problems, obtain vital signs, understand patient history, and how to write and verbalize a report for a walk-out evacuation or patient hand-off. You will also practice improvising splints, controlling bleeding and wounds, and managing heat and cold illnesses, hydration problems, drownings, lighting injuries, spinal cord protection, and basic patient lifts and transfers. Our Wilderness First Aid course does not include a CPR certification, but cardiopulmonary resuscitation techniques are part of the course. 
"This course was excellent! The teaching was dynamic, comprehensive, and hands-on. I feel much more prepared to stabilize a backcountry injury and get help after this course." -CMC WFA student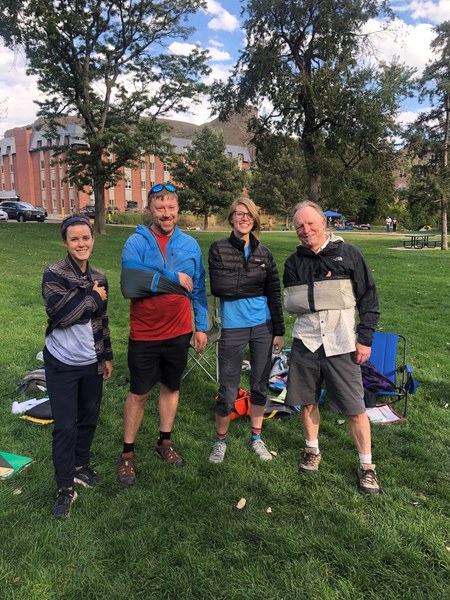 Photo of CMC WFA students creatively making an arm splint using resources already available.
The CMC teaches WFA in two formats: 2-days in-person or 1-day hybrid (combination of online + in-person field day). Our courses are engaging, hands-on, and instructed to the latest evidence-based practices in wilderness medicine taught by wilderness medicine professionals. While most of our classes are taught at our State office in Golden, we also offer classes in Fort Collins, Denver, Colorado Springs, Pueblo, Keystone, Glenwood Springs, and Ridgway. The flexibility and cost of our classes make CMC Wilderness First Aid a top choice across the state of Colorado.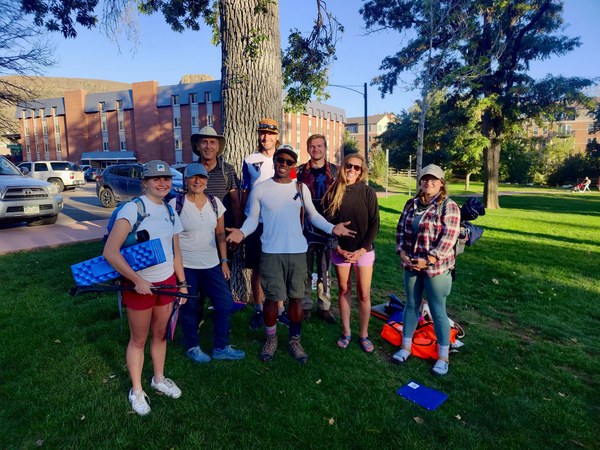 Photo of a group of CMC WFA students prepared for class.
Colorado Mountain Club Wilderness Medicine classes are unique because we partner with Backcountry Pulse who prioritizes inclusive medical practices that teaches students how to provide care to individuals from a variety of backgrounds. Our attention to the dynamics of race, culture, ability level, gender identity, and mental health improves your ability to care for yourself and others in remote environments. 
"Great class to not only help a patient, but how we handle it ourselves. Can't help others if you are not prepared and calm." -CMC WFA student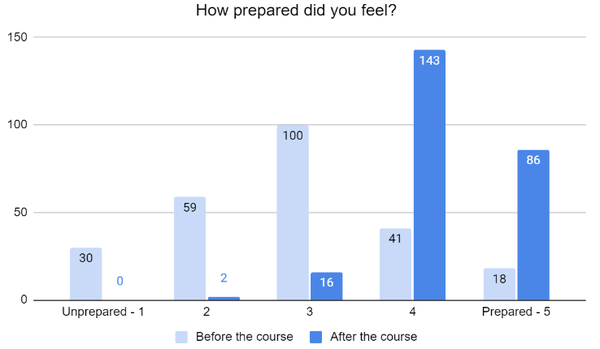 This graph shows student feedback on how prepared they felt to handle a backcountry emergency before taking the WFA course versus after. There is a shift in the bell curve of responses from feeling neither prepared nor unprepared before the course to feeling more prepared after taking Wilderness First Aid training. 
"This course significantly prepared me with medical and the soft skills to better be prepared for emergencies in the wilderness" -CMC WFA student 
Be a responsible leader in the outdoors and get your Colorado Mountain Club Wilderness First Aid training certification today! We wish you prepared travels out there. 
Learn more and register for your Wilderness First Aid training here: https://www.cmc.org/education-adventure/schools-courses/schools-classes-overviews/wilderness-first-aid 
Interested in becoming a Wilderness First Aid instructor? Share your knowledge and experience with the CMC! Learn more about the benefits, expectations, and requirements to teach here: https://www.cmc.org/education-adventure/schools-courses/schools-classes-overviews/wfa-instructor-program.